By Ryan Hines
rhines@dailystandard.com
MINSTER -- After playing almost 2 1/2 innings on Wednesday before rain forced a suspension, the New Bremen and Fort Recovery baseball teams played another seven innings on Friday in Division IV district semifinal action.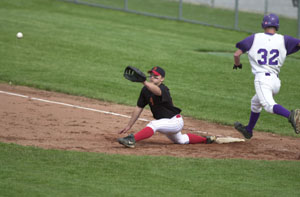 New Bremen will be playing for the district title today at Veterans Field in Coldwater after a pair of Fort Recovery wild pitches allowed the Cardinals to slip away with a 4-3 victory over the Indians in a nine-inning affair.
The Cardinals (8-12) play Delphos St. John's today at 1 p.m. for a chance to reach the regional tournament for the second straight year while Fort Recovery ends its season at 12-11.
In the top of the ninth, Anthony Moeder led off the inning with a single and then was moved to second base on a perfect sacrifice bunt by Derrick Bruggeman.
With one out, New Bremen nine-hole hitter Corey Jutte hit a deep fly to leftfield for the second out leading to a pitching change for the Indians. Clint Tobe, who was on the mound earlier in the season when Fort Recovery defeated New Bremen 4-1 during the regular season, was called on in relief of Indians starter Kevin Schoenherr.
Tobe came on and threw two wild pitches allowing Moeder to score from second base without a New Bremen batter having to make contact giving the Cardinals a 4-3 advantage.
"Kevin did a great job on the mound, but threw 50 pitches on Wednesday and another 50-some today, so he was starting to get a little flat on some of his pitches so we decided to make a change with Clint," said Fort Recovery head coach Aaron Vaughn. "Clint was on the mound for us earlier in the season when we beat them 4-1 and they had probably their best player (Brian Garman) coming to bat and Clint had gotten him out a couple of times earlier in the season. We ended up making one more mistake than they did and they capitalized on it.
"I always think that catchers should be able to stop those kind of pitches. They were tough plays to make, but we have to make those plays in these types of situations and he (Toby Metzger) knows it," continued Vaughn.
New Bremen starter Brad Wendel shut the door on the Indians in the bottom of the ninth and recorded a strikeout to cap a strong performance for the win on the mound. Wendel threw all nine innings allowing three runs (two earned) and seven hits while striking out eight.
"He had a great performance on the mound for us today," said New Bremen head coach Justin Firks. "He didn't come out and throw very well the first day we played this game and it ticked him off a little bit. We knew he had better stuff than on Wednesday and she showed it tonight. Gutty performance to back and pitch like he did. Unbelievable tonight for a sophomore."
"I evaluated what I did the last game and then I shortened up my stride and did a lot better today," said Wendel, who said that he could throw today too, with a laugh. "I was definitely throwing harder in the last inning and that just happens when you're in a big game like this. They (Fort Recovery) didn't like the ball inside and that's where we kept it all game long."
Garman, Jutte and Scott McCollum had two singles each to lead New Bremen at the plate.
Phone: (419)586-2371, Fax: (419)586-6271
All content copyright 2006
The Standard Printing Company
P.O. Box 140, Celina, OH 45822