By Tim Cox
tcox@dailystandard.com
Celina city officials' intended crackdown on excessively tall grass and shabby looking properties has netted a few positive results but problem areas still abound.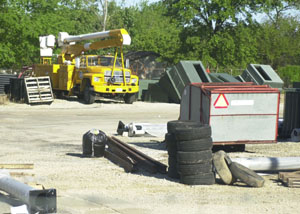 There are numerous residential properties throughout the city with high grass -- some two feet or taller, and in at least one instance, the city appears to be in violation of its own junk ordinance.
City administration officials have enlisted the help of the city police department to help enforce grass/weeds and junk ordinances. City officials still are in the process of crafting a property maintenance code that would take the issue a step further by enforcing rules regarding the general appearance of buildings.
"It's slowly being taken care of," Celina Safety-Service Director Jeff Hazel said.
Processing some complaints of high grass has been slow because the properties are in foreclosure proceedings, he said. In those cases, city officials must contact the bank which owns the property to enforce the local ordinance. "It's illegal for us to expend tax money to mow or clean up a property until we have established proper procedure," Hazel said.
City officials can act after giving property owners five days to take care of matters on their own. After that, the city can intervene and charge property owners the actual cost of labor and materials. For mowing grass, that price likely would run $100 or more, Hazel said.
But while the city cracks down on property owners, there appears to be at least one clear violation on city ground. The city has several tires stored on the Touvelle Street property where the former public works building recently was torn down.
Hazel admitted the tires are a violation of the junk ordinance and said he has ordered them removed and stored properly.
Second shift police officers are handling grass and junk complaints, with one officer handling each of the four quadrants of the city. Officers have investigated more than three dozen complaints of high grass, two dozen complaints of junk cars illegally parked on private property and nearly 50 junk complaints.
"We have taken a few people to court and have a few more cases pending," Hazel said.
The city has a code enforcement officer position, that was created but never filled due to budget constraints. Eventually, city officials want to hire someone to fill that post, at least on a part-time basis to ease the burden on the police department, Hazel said.
"It's a time issue," Hazel said. "They have to deal with safety issues and criminal complaints first. That's why some of the grass has gotten out of hand."
Hazel also reminds residents it is a violation of city ordinance to blow lawn clippings into the street. The grass finds its way into the storm sewers, where it can cause clogs and also carries fertilizer and lawn treatment chemicals into the watershed.
"People need to sweep that up or they can be cited," Hazel said.
Phone: (419)586-2371, Fax: (419)586-6271
All content copyright 2006
The Standard Printing Company
P.O. Box 140, Celina, OH 45822