WAPAKONETA -- The St. Henry Redskins scored four runs in the first two innings, then used great defense and pitching in the late innings to hold on and defeat the Allen East Mustangs, 4-2, Saturday afternoon in the Division IV district championship game at Wapakoneta High School.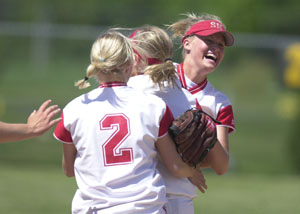 With the win, St. Henry will take a 13-11 record to the regional tournament at Wayne High School on Thursday afternoon at 5 p.m. against the West Liberty-Salem Tigers, which beat Cincinnati Christian 6-2 in the Huber Heights district final on Saturday. Allen East bows out of the tournament at 12-14.
The Redskins used great execution of small ball and took advantage of some shoddy Allen East fielding to put up a run in the first before adding three more in the second.
In the first, Kylie Elking hit a smash to third base that was backhanded by Allen East third basemen Alyson Reese, but the throw went down the right-field line allowing Elking to reach second. Erica Wilker then laid down a sacrifice bunt, moving Elking to third before a sacrifice fly by Brenda Hemmelgarn brought Elking home.
In the second, Lindsay Kahlig led off with a single. Rachel Schmackers then laid down another bunt that was thrown away by pitcher Skyler Fosyer, moving Kahlig to third. Karla Buschur then made the score 2-0 with a base hit while Janel Bruns plated the final two runs with a single to left that was misplayed by leftfielder Taylor Long.
"We talk about when you get this deep in the tournament that runs come at a premium and any chance that we get runners on we got to take advantage of it," said St. Henry coach Josh Link. "Kylie got on base in the first inning and Erica is one of my best bunters. She got the runner over and good things happened. We were able to execute the little things and that was what got us going.
"Our bunting game was real successful today," continued Link. "We were able to get the bunt down for a sacrifice and we were able to get one down for a base hit. I was really pleased with that."
With early run support, Redskin pitcher Karla Buschur kept the Mustang offense at bay through the first four innings, with the help of her defense, despite giving up five hits.
Allen East finally broke through against Buschur in the fifth, scoring twice. Ashley Conkle tripled with one out and scored on an infield hit by Katie Elsass. After a bounce out moved Elsass to second, she scored on a single by Sara Feldner.
Reese then hit a single to right-centerfield and Feldner tried to score all the way from first, but she was cut down at the plate on a nice one-hop throw from Bruns in center to end the threat.
The Redskin defense came up huge two more times for Buschur in the final two innings to seal the win.
In the sixth, Foster singled with one out but she was erased on a nice double play as Bethany Puthoff grabbed a ground ball and made the play at second before throwing the ball to first to end the inning. In the seventh, Puthoff made two routine plays at short and Bruns made a nice catch in center to end the game.
"They really tried to make things interesting at the end," said Link. "Karla had a another 100-percent performance out there on the mound today. I can't ask for anything more then I got today from my defense in the outfield. Bethany Puthoff was eating everything up at shortstop and turning that double play on her own. Pitching, defense and enthusiasm in the dugout have been the little things that have carried us this far and hopefully we can continue it for a couple more weeks."
Phone: (419)586-2371, Fax: (419)586-6271
All content copyright 2006
The Standard Printing Company
P.O. Box 140, Celina, OH 45822