By Ryan Hines
rhines@dailystandard.com
ELIDA -- The top of the batting order carried the Coldwater Cavaliers baseball team for most of the season, but that wasn't the case on Saturday in Division III district finals action at Ed Sandy Field.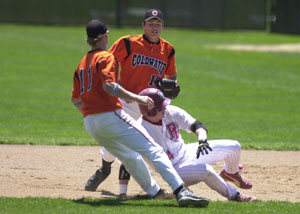 The Cavaliers' one-through-four hitters were a combined 1-for-14 and Patrick Henry knocked Coldwater out of the postseason for the third time since 2002 with a 6-1 victory.
Patrick Henry (27-2) moves on to the regional tournament to be held at Elida to face Woodmore while Coldwater bows out of the tournament with a 19-7 mark.
Coldwater's Brady Geier, Cory Klenke, Troy Siefring and Cody Muhlenkamp have been consistent run producers all season long but Patrick Henry's combo of Nate Wilhelm and Marc Krauss cooled off their bats.
"That's a credit to our pitching, they moved the ball in and out and also changed speeds," said Patrick Henry head coach Greg Inselmann. "Nate and Marc executed our plan well. They put the ball into play but we played good defense behind them." "Those guys (top of order) have produced for us all year long and have worked their butts off, but their pitchers got the outs," said Coldwater head coach Brian Harlamert.
Cavalier ace Sam Slavik also struggled on the mound to take the loss allowing five earned runs in 4 1/3 innings pitched with five walks, three of which came around to score.
"Sam just didn't have his best stuff today," said Harlamert. "He couldn't get his curveball called for a strike and they just hit his fastball."
Coldwater held an early 1-0 lead thanks to a solo home run by Riley Muhlenkamp to deep leftfield, but the Patriots went on to score six unanswered runs against the Cavaliers.
A pair of Slavik walks scored in the second inning. Zack George tied the game with an RBI single and the Patriots executed a perfect double steal to take a 2-1 advantage.
Patrick Henry blew the game open in the fifth frame with three more runs. Brad Leonard, Kyle Reese and George each drove home a run in the fifth. The final Patriots run came in the seventh when Gaston Pleiman issued a lead-off walk, which later scored on a wild pitch.
Despite out-hitting the Patriots 7-5, the Cavaliers left 11 runners on base, including the bases loaded with the top of the order up in the second inning.
The Cavaliers loaded the bases in the second inning with Brady Geier and Cory Klenke up and both were retired.
"That was a huge moment in the game and I think that it was big because we didn't allow them to score and then we scored some runs to take the lead," said Inselmann.
Riley Muhlenkamp (five-hole hitter), Trevor Stromblad (six-hole hitter) and Ryan Geier (eight-hole hitter) each had two hits for Coldwater.
"On our way over here on the bus, coach Hemmelgarn (Jason) and I talked that we needed our bottom of the order to come through with some hits for us today because we felt going in that our top of the order would continue to produce like they have all season for us," said Harlamert. "The guys at the bottom of the order came through but we couldn't get anything going from the top of our order."
Patrick Henry also knocked Coldwater out of the postseason in 2002 (2-0) and in 2005 (7-3 in eight innings). Coldwater defeated PH in 2004, 4-3.
Both coaches have acknowledged that a rivalry is growing between the two teams.
"Whenever you can beat a quality program like Coldwater, it makes it even sweeter," said Inselmann, who was also a state-winning coach while at Defiance. "We know that every time we play them, and we've played them a number of times recently in the postseason, it's going to be a battle."
"Both programs respect the other so much and we've had some good games against each other in the recent years," said Harlamert. "It's not fun to lose, but they have a good program and so do we, so it's going to be a good game when these two programs meet."
Phone: (419)586-2371, Fax: (419)586-6271
All content copyright 2006
The Standard Printing Company
P.O. Box 140, Celina, OH 45822