By Gary R. Rasberry
grasberry@dailystandard.com
ST. HENRY -- It was a cold brisk day at Celina when St. Henry started its softball season.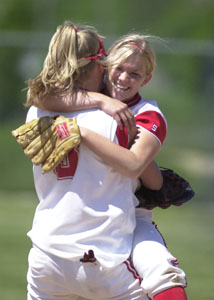 A 10-0 loss in six innings started the season with a bleak outlook.
Six more losses followed before the Redskins picked up their first win of the season against Marion Local.
Many may have not known it at the time, but that win produced a major turnaround.
The Redskins followed that win with 12 more in the next 16 games, which included a big win win over New Bremen in the Division IV District Championship game this past weekend. Instead of packing up the gear after the team banquet, which was held Monday night so that everyone would be there before graduation and the senior trip to Myrtle Beach, the team (13-11) was practicing on Monday and getting ready for the regional semifinal on Thursday against West Liberty-Salem at Wayne High School.
"I don't know where we would have had our team banquet and still alive in tournament," said head coach Josh Link. "I'm collecting uniforms and congratulating everyone on the season we had. Here we are still playing. It's an unusual, but exciting situation."
Considering a MAC team has been to state the previous three years -- with St. Henry starting the trend in its state runner-up year of 2003 -- expectations were high that the experienced Redskin team would be looking for a strong campaign, but the slow start had some people reconsidering their goals.
"I asked the girls honestly where they thought we'd be. Some of them said 'Yeah, we would be there,'" said Link. "That's easy to say now. Honestly, some of them thought we'd be there because we knew we were close. We were in a lot of games. We knew we had the capabilities. We just weren't getting the breaks."
As the losses piled up early, the expectations began to drop as well.
"We were struggling pretty bad," said senior second baseman Kylie Elking, one of the tri-captains. "Everyone pretty much gave up. Then everything got rolling and everyone got excited."
But after getting that first win in a non-league game with Marion Local, things started picking up for St. Henry.
"The captains talked to the team," said senior catcher Brenda Hemmelgarn, another captain. "We needed to get momentum on our side. All of the sudden we started having fun. We all came together as a team. It's been a blast."
Looking back, Link thinks those losses to Celina, Parkway and Greenville -- which is playing in the Division II regionals this week -- only helped his team to get to this point.
"It was good for us to play those good teams early -- Celina, Shawnee, Greenville," said Link. "That only helps make us better and helps us realize that we can play with some of these teams."
As for the exact turning point, Link can't come up with an answer.
"We talk about trying to figure out when people ask us what point we turned it around," said Link. "If I knew that, I would try to figure out gas prices because I can't exactly pinpoint where it was. It was a whole matter of the girls deciding to go out expecting to win rather than hoping to win."
"We pulled together more as a team, I think," said senior pitcher Karla Buschur, the third captain. "Definitely part of the Lord's doing, me especially. I learned to trust him more during the season. That was pretty much my turning point.
"We tried to put those games behind us and try and play each game like a new game, not focusing on the losses but on what was to come," continued Buschur. "We relied on each other more the last part of the season."
The fact the team is in the regionals for the first time since 2003 is big for the seniors, who were freshmen that year. Elking, who was called up to the varsity for the tournament run, is happy to get another chance at a possible trip to Ashland.
"I hoped (it would happen) for us, but we just went with the flow and thought 'It would be awesome to go back again.' I'm hoping to do that this year," said Elking.
"It's really exciting. We've had a lot of exciting games that we've had to go to the last inning," said Buschur. "Everybody's pretty pumped about the upcoming games. We're ready to go and get them, I guess. Everybody's pretty excited out there."