By Margie Wuebker
mwuebker@dailystandard.com
MINSTER -- Jim Boyle and Julia Boyle Unger consider their visit a pilgrimage of sorts back to the old house where they spent many summers during their youth.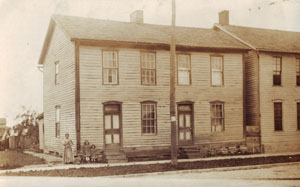 Folks still refer to the house at 163 N. Main St. as the old Schaffer place. However, family ownership ended in 1980 with the death of the visitors' mother, Florence Schaffer Boyle.
History buff Dave Hemmert is tearing down the home for the current owner. Boyle and Unger learned of the scheduled demolition through a newspaper story and made arrangements for a final visit.
"We would spend the summer here with Mom's brothers and sister (Clarence, Andy and Aggie Schaffer)," Unger says. "I always got a good feeling walking into this house. It was always warm and inviting. There were so many neat things to do than back home in Dayton."
No one slept in the south bedroom upstairs. It served as a storage area for sugar-cured meats hung from the ceiling. "Somebody would go up and whack off a chunk of meat before mealtime," Unger says with a smile. "I can almost smell the bacon frying. It was the best I ever ate."
The current Vandalia residents also recall special treats like vegetable soup, big purple plums, strawberry cream cake, creamed wax beans, tomato preserves, plump cookies and gooseberry pie prepared in the summer kitchen. Rows of jars containing home-canned fruits and vegetables filled the pantry.
The other bedrooms were furnished spartanly with iron beds, dressers and wardrobes. One of the uncles later painted everything white in the interest of modernization.
Unger laughs at the mention of a ghost who has been spotted at an upstairs window.
"I saw her once myself when I ran upstairs to wake Uncle Clarence," she says. "A kind looking woman wearing a purple dress came into the room and gestured for me to come to her. She did not say anything; she just stood there smiling."
Aggie Schaffer allayed the girl's fears, saying it was Julia Schaffer wanting to get a closer look at her granddaughter and namesake.
"I guess she didn't want to meet me because I never saw her," Boyle says with a chuckle.
Brother and sister walk through the downstairs rooms oblivious to walls that bear traces of old paint and layers of wallpaper.
"I applied the green paint in 1959," he says. "Clarence and I took a break and went fishing at Lake Loramie. We pulled in one bass and 50 crappies during that break."
Unger recalls her aunt sitting in an easy chair at the front parlor window. She never missed comings and goings, pulling aside the white curtain to see who was out and about.
The 141-year-old home, one of the last remaining examples of German fachwerke construction, had sagging floors, particularly in the parlor. The visitors recall chunks of wood were used to keep chairs from sliding across the room.
Neither descendant knew about a rear door to the stairway, apparently plastered over during the early years when previous owners operated a tavern. They remember stories from their mom regarding a central fireplace that was plastered over and a still for brewing potent libations during the Prohibition era.
Electricity came to the home in the 1920s with wires running along the floor. There were no fancy lights, just suspended light bulbs and a chain to pull. Heating also improved from the fireplace and pot-bellied stove era.
Prior to the installation of indoor plumping, everyone followed a path of wooden planks to the outhouse. Morning glories screened the side urinal from public view.
"Water came from two pumps in the back yard," Boyle says. "One provided water for washing clothes and the other for drinking."
The deep lot, which extended several blocks, was home to a large vegetable garden, fruit trees and a pet cemetery. Foundry dust coated the nearby alley.
"Andy watched the garden like a hawk," Unger says. "My brother ate several tomatoes just before they reached peak ripeness and pulled buds from some of the flowers. He quickly learned not to touch any of that stuff."
Rose bushes dotted the area that became the final resting place for cats and dogs. Their green-thumbed uncle planted a new one each time he interred a pet.
"Andy loved animals," Boyle recalls. "He once tried to preserve a favorite Irish setter for display in the side yard. The experiment didn't work.
Walking through the home for a final time prompts comments like, "I don't remember it being so small" and "Remember mom telling us Aggie nailed the carpet down to keep it from shifting."
They linger longest at the steep stairs leading to the upper level.
"We used to sit here and watch football games," Unger says. "We could see all the way to the school in those days. These steps were our throne."
The death of their mother in 1980 signaled the end of regular visits as a new owner purchased the home. However, they came for annual Oktoberfest observances and peaked into the unoccupied house.
"Oh, the memories that were made here," Boyle says. "If only walls could talk, what tales they could tell.