By Bruce Monnin
bmonnin@dailystandard.com
PIQUA -- The girls from the MAC held a track meet in Piqua to determine who would advance to next week's state track meet in Columbus, and they decided to invite a few other schools to mostly observe.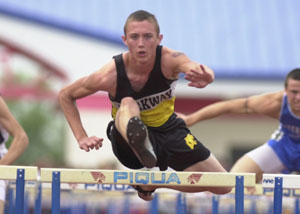 MAC schools took nine of the top eleven places in the team standings at the Division III Piqua regionals Friday night. In doing so, 11 of the 16 relay teams which advanced to next week's state track meet were from MAC schools, and the MAC also filled 26 out of the 52 available individual event spots at Columbus.
The team standings reflected this. Delphos St. Johns came home with the championship trophy with 61 points, but following close behind was Minster in second place with 55 points and Versailles in third with 50 points. Other finishes by MAC schools included Coldwater in fifth, New Knoxville seventh, St. Henry eighth, New Bremen ninth and Fort Recovery and Parkway tied for tenth among the 41 schools which scored at the meet.
St. John's used three event wins and three second place finishes to anchor their first place effort. But the battle for second between Minster and Versailles was close all night. A win by the Tiger's Amanda Barlage in the pole vault gave Versailles a good start, and the teams were almost deadlocked heading into a showdown in the 1,600-meter run. Versailles' Mary Prakel seemed to have the race won when a late surge by Minster's Brigitte Sherman gave her the win by four hundredths of a second.
"She got ahead (in the third corner) and I got mad," recalled Sherman. "I thought there was no way a Versailles girl was going to get me, even though I love Mary Prakel. I knew at the end that I had her. I waited until right at the end to get her and she didn't have enough time to know that I was there and speed I up." Versailles regained the lead over Minster in the next few events, but the duo of Bernadette Burke and Jenna Fausey finished first and third in the 3,200 run to give the Wildcats the points they needed to secure second place in the team standings. Another Minster runner going to Columbus will be Katie Dahlinghaus, who finished fourth in the 800 run, joining the 3,200 relay and the two high jumpers who qualified Wednesday.
Almost lost in the close finish in the 1,600 run was Coldwater's Ashley Kanney finishing third to earn a trip to Columbus. Kanney also finished second in the 800 run and will be joined at state by pole vaulter Janelle Jansen, who finished fourth in that event.
The St. Henry girls only advanced in the 400 run, but will be sending both Catie Evers, who won the event, and Carmen Moorman who finished fourth. After the awards ceremony, Evers left the stand looking like a seasoned veteran who was already focused on state, while Moorman looked like she had already won.
"I'm very excited," exclaimed Moorman. "I mean, a freshman going to state, you don't hear that much, especially from St. Henry."
"My times just keep improving." Evers added, "She (Carmen) will get me in the right attitude to do my best and hopefully she'll get in a good attitude also."
Parkway's Jessica Felver earned her ticket to Columbus with a third place finish in the discus, where she will be joined by Marian Bevington, who started the day with a fourth place finish in the long jump, then added a convincing victory in the 100 hurdles.
"Yeah, I was really expecting it (the win)," said Bevington. "So were my mom and dad. They were happy. There haven't been very many girls from Parkway go to state. I looked back to last year and there are some tough girls coming back (to the state meet), but I won't let that get in my way."
Fort Recovery will be sending Mindy Vogel to state thanks to her third place finish in the 800 run. There she will join Holly Stein, who qualified in the shot put Wednesday and added a fourth place finish in Friday's discus competition.
New Bremen and Marion Local each have two relays teams (Continued from page 8)

advancing to state. The Cardinal's 1,600 relay finished second to join their previously qualified 3,200 relay team, and the Flyers' 400 relay team used a fourth place finish to join their 3,200 relay team in Columbus.
BOYS
While there was no doubt the Horn boys were going to lead Waynesfield-Goshen to the boys' team title at the division three regional track meet in Piqua, there were four teams in a tough battle all night to lay claim to the second place trophy. In the end, another trophy will have to be ordered as the New Bremen Cardinals tied Delphos St. John's for second place with Parkway finishing just four points behind in fourth place.
Besides placing well in the team standings, MAC teams also advanced three relay teams and 15 individual events to next week's state track meet in Columbus.
Waynesfield-Goshen ran away with the team title with 73 points. New Bremen and Delphos St. John's each finished with 45 points, with Parkway close behind in fourth with 41 points. Also scoring were Minster in 15th place, St. Henry in 18th, Marion Local in 26th and New Knoxville in 37th place.
New Bremen was extremely successful qualifying their runners for action at the state meet. Martin Travis earned his trip with a fourth place finish in the 100 dash. The 800 relay team followed with another fourth place finish, then Jason Dammeyer placed third in the 1600 run. Another 16 crucial team points were earned when Bryce Bergman finished second in both the 110 and 300 hurdles.
"I was hoping for at least fourth place finishes, but luckily I got second," stated Bergman. "I PR'd in the 110 (hurdles) by nearly half a second." When asked if next week he could beat Parkway's Jacob Fox (who won both events), he replied, "I did it before, I can do it again." Jacob, who was standing next to Bryce, did not seem to agree with that assessment.
Bryce is following in the big footsteps of Troy Lammers, the Cardinal's star hurdler the previous few years. "He (Lammers) will come by about once a week and give me pointers," added Bryce. "He has been here for me at every big race."
With just two events left, New Bremen needed to score 10 points in order to achieve a tie for second place, which would make this the third consecutive year the Cardinals finished either first or second at the regional meet. So coach Gary Jones made one of those decisions for which he gets paid the big money, and pulled Jason Dammeyer out of the 3200 run in order to bolster the 1600 relay team.
There were six teams in the final 1600 relay who all finished within seven tenths of a second of each other in the preliminaries. The Cardinals needed to win the race to place second in the team standings.
First up was Chris Heitkamp, who did not run in the 400 dash Wednesday due to back troubles. "I was pretty much first or second until I slowed down in the last turn and finished about third," recounted Heitkamp. "My back was hurting."
Scott Brackman took the handoff and used an early sprint to seize track position. "Coming out of lane six I knew I had to cut over early because if I didn't I wouldn't be able to get down to the first lane. About the 200 mark I got boxed in with about three guys, one behind, one beside and one in front of me. I couldn't get out until the 100 mark, then I could finally get a good kick before the handoff."
The Cardinals were now in sixth place but still very close to the lead. Jason Dammeyer as the third runner had to get his anchor man in a position to win. "I knew Martin is an incredible runner and I just had to get him somewhat close to let him do what he does best, which is kick it in at the end and outrun everybody. I tried to just cruise during the first 100, then at the 300 mark I just wanted to kick it in. A kid passed me so I went with him and passed a couple of guys, and I got Martin the baton in fourth. I just knew he would run an incredible leg."
As Martin Travis took the baton there was one team a few meters ahead while the others were all packed close together. "I was in fourth and quickly I fell into fifth when someone passed me right away on the first corner. I figured he was going too strong anyway so I kept my pace," reasoned Travis.
But then he had a decision to make. "In the backstretch I was thinking in my mind whether or not to just go for fourth because getting to state was my main goal. But then the others starting letting up and I was just getting my kick, so I decided to go outside of them into about the fifth lane and took it in as hard as I could."
The Cardinals finished three tenths of a second ahead of Cedarville in what was easily the most entertaining race of the night. The New Bremen faithful (of whom there were many in attendance) immediately erupted at the victory which propelled their Cardinals into the second place tie in the team standings.
Parkway's fourth place finish included five events where Panthers will compete at state, and should provide them with the opportunity to place well there. Jacob Fox pulled one of the rare doubles on the day, winning both the 110 and 300 hurdles races. Jason Fisher placed third in the shot put to go along with his Wednesday first place finish in the discus.
Ryan Huwer of St. Henry placed third in the 200 to earn a trip to Columbus.