By Tim Cox
tcox@dailystandard.com
On the fourth Memorial Day observance since the start of the Iraq war, a National Guard soldier talked about his tour of duty and the sacrifices being made by military members and their families.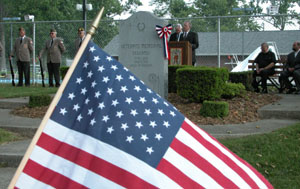 Capt. Kevin Bigenho delivered his remarks during a scorching late-morning service Monday at the veterans memorial at the corner of Logan and Main streets in Celina. Several hundred spectators turned out despite the oppressive heat.
Bigenho, a commander with the St. Marys-based Alpha Company, an engineering battalion, spent nearly a year in Iraq. The soldiers were mostly in charge of clearing roads of improvised explosive devices (IED) that have been the top killer of American forces since the insurgency that began when Saddam Hussein's government was toppled.
American soldiers, sailors, airmen and marines "come from all walks of life from every corner of this great country," Bigenho said, adding they all share a common goal of "service and sacrifice for the greater good of the nation."
Bigenho, 40, a Toledo police officer, was on a traffic stop in that city when he learned more than two years ago his company likely would be deployed to the Middle East. Months of training to prepare for the mission followed and Alpha Company arrived in Kuwait in January 2005. By late January, the National Guard unit was in Baghdad. As part of Task Force Iron Claw, the local soldiers cleared 22,000 miles of roadway during 340 different sweeps. They successfully handled 130 IEDs and also set up 22,450 concrete barriers around Camp Liberty, Bigenho said, all without a life lost. Eight Alpha Company soldiers received purple hearts for injuries they sustained.
There were times of direct conflict with insurgents, Bigenho said, noting that the company destroyed all threats successfully.
Mercer County Veterans Service officer Tom Risch said it was great to look out and see so many people, including a lot of people in uniform, at the annual Memorial Day service.
"The heat is a little reminder of the 120 degree temperatures our troops are dealing with in Iraq," he said.
Risch challenged attendees to each bring someone new to next year's service to double the size of the crowd.
In Mendon, village council President Janice Clay talked about the realities of war that people who have not served in the military cannot fully grasp.
There is no way for people to know what it would be like to be bunkered down in a foxhole, flying in a plane under fire or being stranded far from home in a battlefield medical tent. No one can fully comprehend the sacrifice of the men who stormed the beaches of Normandy in World War II, she said.
"We need to thank them for the sacrifice they have made for you and I," Clay said, calling on veterans to step forward for recognition.
After further prompting from Clay, nearly two dozen veterans of various past conflicts came forward and were greeted by applause.
The Rev. Peter Calvert also spoke in Mendon, talking about the sacrifices of the country's founding fathers, especially the 56 men who signed the Declaration of Independence. The Mendon service also included the traditional march down Main Street and the casting of flowers into the St. Marys River.