By Gary R. Rasberry
grasberry@dailystandard.com
CENTERVILLE -- Three Versailles errors played a big part in Sparta Highland scoring all three of its runs in edging the Tigers, 3-2, at Booster Park at Centerville High School on Saturday in Division III regional finals action.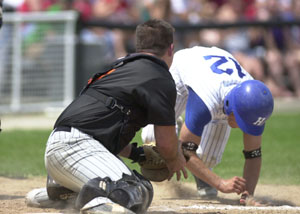 The Fighting Scots (25-5) advanced to the state semifinals Saturday at Cooper Stadium in Columbus and will face Mid-Ohio Athletic Conference rival Marion Pleasant, which beat the Scots twice in the regular season. Versailles ends its season with a 24-4 record.
Things looked good early for the Tigers when Matt Murphy singled with one out prior to Zac Richard lofting an RBI double deep to centerfield, driving home Murphy. Richard later scored on a Jared Bruns double to the gap in left to make it 2-0 after a half-inning.
But that was all the offense that Versailles could muster as Scots starter Chuck Coffee scattered just one more hit and walked none in his next three innings. The only other Tiger baserunners in that time came on two harmless errors.
In the fifth, the Scots called on ace Dan Hughes, who threw 78 pitches in Friday's win, but went on to walk just one, allowed a double to Jared Turner and struck out five in the final three innings to get the save. "Chuck Coffee did a great job for us. He did everything we expected him to do," said Scots coach Travis Church. "Then Dan came in. Defensively we played a great game. When we needed offense, we got it done.
"Our plan all along was to bring (Hughes) in the fifth. He went low-pitch count yesterday and felt really good today. The biggest thing I asked him is if he was good to go and he said that he was."
Highland halved the Versailles lead in the bottom of the second. A pair of singles by Brandon Geiger and Andrew Westbrook put runners on the corners before Jared Bruns fired a pitch that catcher Alex Davis could not handle, allowing Geiger to score.
The Versailles defense came up big early in the fourth inning when William Stuff tripled to lead off the inning and Geiger grounded to Murphy at short, who then fired home to Davis to catch Stuff. Davis then threw the ball to Turner at third for the out.
Jake Hampton followed the rundown with an infield single off Bruns' hand that allowed Geiger to score the tying run before Gar Keen followed with a single to give Sparta Highland the lead as Thompson scored to make it 3-2.
Bruns threw a fine game in not allowing an earned run, striking out six and walking two in six innings of work.
"If we would have made a couple plays, we would have been on the other side," said Versailles coach Tom Watren.
Hughes had to face the meat of the Tigers' order in the sixth with Richard, Turner and Bruns. Hughes got Richard to fly out to right before giving up a deep double to left to Turner. Hughes recovered to strike out Bruns and Jeremy Shardo to end the jam.
"They're a great hitting ball team," said Church. "We kept the ball down and really mixed things well."
In the seventh, Hughes picked up from where he left off, striking out Brian Francis and Andy Francis before getting Adam Barga to fly out to Zac Hampton in center to end the game.
"It was a great team win. The adversity this team has been through (sophomore pitcher Lincoln Squires died in January in a car accident), it has been great that they overcame those things."
"They brought their stud in and he did what he was supposed to do," said Watren. "We had our chances early, we just couldn't capitalize on it.
"They gave it all they got. Talent-wise, by far the best we've had (with seniors). They earned their spots. It wasn't given to them because they were seniors. There's probably 4-5 of them who could play college. The kids should be proud, we won 16-17 in a row and came out here and faced a good team. That's why you play the game."
Phone: (419)586-2371, Fax: (419)586-6271
All content copyright 2006
The Standard Printing Company
P.O. Box 140, Celina, OH 45822