By Margie Wuebker
mwuebker@dailystandard.com
Emily Rose lifts her sparkly purple ball from the rack and carefully approaches the lane taking care not to step over the marks. She sends the ball rolling along the polished surface and smiles broadly as pins fall in all directions.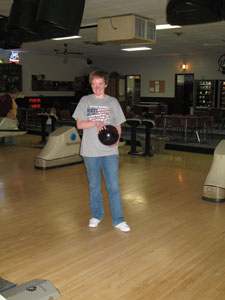 Today is just practice; the real competition takes place July 2-7 at the first-ever national Special Olympics to be held in Ames, Iowa.
Rose, the 23-year-old daughter of Rick and Teresa Rose of Celina, is one of 3,500 athletes chosen from across the country to compete in team and individual sports on the Iowa State University campus. Bowling is her forte and the source of numerous awards
"I like bowling because it's fun," she says. "And I like getting rewards."
Rose, who was born with a neurological disorder known as tuberous sclerosis, earned a gold medal at the Ohio Special Olympics held last summer in Columbus. Linda Thomas, who coordinates the Cheryl Ann Special Olympics program, received a telephone call announcing the local woman's selection to Team Ohio.
"I was so excited that I nearly said yes right away," she recalls with a chuckle. "Then I called Emily's mother and asked if she was sitting down. We squealed together."
Rose, who works four hours a day as a document shredder at Reynolds & Reynolds in Celina, is one of four athletes chosen from the seven counties comprising Area 3. The three other people, all from Hancock County, will compete in unified baseball.
"Team Ohio bowling will consist of two gals and two guys," says Diana Wagaman, state summer games coordinator. "Emily can hold her own in competition."
Rose shakes away any mention of anxiety or nervousness. She exudes confidence with nine years of bowling experience under her belt and stacks of awards tucked away in a chest that once belonged to her great-great-grandmother.
She began competing in track and field events as a first-grader in the Celina City Schools and also participated in Challenger Little League. Bowling became a passion long before her 2002 graduation. When the local school program disbanded, she became involved in the Cheryl Ann Olympics.
With a 104-pin average, Rose admits to having an occasional gutter ball.
"You can't turn your body," she patiently explains. "You have to follow through and let your arm go straight up like you were shaking hands."
With a twinkle in her eye, she admits the sage advice came from her dad.
Rose and fellow Team Ohio participants will leave Columbus on July 1 aboard corporate jets. The airplane trip will be her first, but she has no qualms about floating up there with the clouds.
"We're driving to Iowa to watch Emily and the others participate," Rick Rose says. "We would not miss being there for what will be our summer vacation."
The Ohio delegation will don patriotic red, white and blue shirts for opening ceremonies.
More than 8,000 volunteers, 2,000 coaches and 12,000 relatives and friends will be on hand for the ceremony complete with lighting of an Olympic torch and to cheer on the athletes.
The national games include swimming, track and field, basketball, gymnastics, motor activities, power lifting, bowling, tennis, golf, softball, bocce ball, soccer and volleyball in the spirit of Olympic-type sports.
Founded by Eunice Kennedy Shriver in 1968, Special Olympics is an international organization that changes lives by promoting understanding, acceptance and inclusion between people with and without intellectual disabilities.
"Special Olympics is the biggest thing that ever happened for many of our participants," Wagaman says. "It's their time to shine, and Emily will do just that in Iowa."