By Shelley Grieshop
sgrieshop@dailystandard.com
MONTEZUMA -- It was a house call like no other.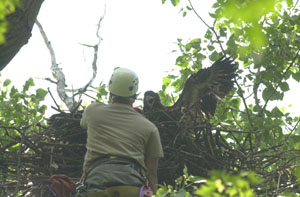 Eagle biologist Mark Witt climbed a tall cottonwood tree along the south shore of Grand Lake on Wednesday morning for a surprise visit on three American bald eagle chicks.
Straddling the trunk 50 feet off the ground in the sultry air, he carefully removed the 7-week-old eaglets from their mammoth, 4-foot-wide nest. One by one they were placed in bags and lowered to waiting wildlife officers who carried them from the swampy wetlands to a nearby clearing to be banded.
"They kinda' feel like any other bird," said 9-year-old Austin Prenger, as he ran his fingertips across the soft sheathing on the eaglet's black feathers. Prenger was part of a small group invited to watch the banding and pet the birds.
The state wildlife division's banding project helps officials track the eaglets and monitor their health as they grow, said Mark Shieldcastle, the project leader of the Ohio wetlands wildlife research. The banding process is completed in just a few minutes to pose the least amount of stress on the birds, he adds.
"We try to get out of their life fairly quick," he said, calling Wednesday's event near Prairie Creek an "educational opportunity."
The eaglets, who are three to four weeks from taking flight, already have a wing span of about 4 feet. Wildlife officers checked the local birds' talons (claws), foot pads and beaks for signs of deformity and disease, but did not draw blood or weigh the docile creatures. The eaglets' gender also remains unknown.
This year marks the second time eaglets born on Grand Lake were banded by Ohio Department of Natural Resources (ODNR) officials. The birds are now affectionately known as P68, P69 and P70.
In 1997, the first year young bald eagle chicks were successfully hatched locally, state wildlife officers climbed to a nest on the west side of the lake and banded a pair of eaglets.
This year ODNR officials chose one eagle nest from each of the five Ohio districts for banding, basing their choice on the most easily accessible trees. Two bands are placed on the legs of each eaglet: a red one indicating an Ohio-born eagle and a silver band used by the U.S. Fish & Wildlife Division.
Volunteer eagle watcher Jill Bowers of St. Marys, who waited patiently with the other spectators near the Aquaview subdivision, was overwhelmed when three young, not two as she had thought, were discovered in the nest.
"Oh my gosh, that's awesome!" she yelled.
The adult pair, who soared and screeched overhead during the ordeal, aren't the only proud mom and pop on the block. Less than six miles away at the Mercer County Refuge south of Celina, three other eaglets were successfully hatched in March.
"You've got to admit, six of these (eaglets) in this county at one time -- that's great," said Dave Sheets, District 5 supervisor for the Division of Wildlife.
The pair at the refuge have made the lake their home since 2001 and have raised 12 eaglets to date.
A recent statewide survey indicates Ohio currently has 150 bald eagle nests with a record 185 chicks hatched this spring. Most nests (58) yielded just two young, however, the local nests were two of 10 that produced three eaglets this year, according to the ODNR.
Ohio's numbers weren't always that rosy. A steady loss of habitat and exposure to harmful pesticides caused the eagle population to drop in 1979 to only four breeding pairs. That year, Ohio initiated its Bald Eagle Restoration Program and the majestic birds have begun to make a comeback.
Shieldcastle said there's enough food around Grand Lake to attract even more eagles, despite the bird's territorial nature. He expects to hear of an eagle nest sighting soon in the Chickasaw area, an area currently home to a large great blue heron rookery.
"This is a great place for eagles, there's plenty of food here for them," he said. "Having these nests so close together on the lake is a good sign and indeed a success story for the area."