By Bruce Monnin
bmonnin@dailystandard.com
COLUMBUS -- On a day which started wet and only got wetter as the day went on, the Division III state track meet started off with six events for both the girls and boys on Friday.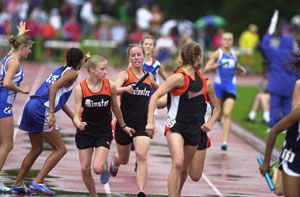 While fighting both the weather and their competitors, several area athletes have already attained spots on the podium at these championships.

Girls 3200-Meter Relay
The Midwest Athletic Conference placed extremely well in this distance relay, with Minster finishing in third-place, New Bremen in fifth and Versailles in sixth, with all three teams bettering their times from regionals. Marion Local also competed in the event and finished 10th. When Minster assistant coach Nann Stechschulte was shown that the Lady Wildcats only had the fifth-best regional time coming into the event, she remarked that they would finish higher than fifth.
She was right, as Minster began the race in fifth and slowly worked its way as high as second before finishing in third place.
Lead-runner Brigitte Sherman got the team off to a solid start near the front of the pack.
"Getting third feels amazing especially after not getting here at all last year," commented Sherman. "My freshman year we finished first and that felt really good. This year I feel I worked harder for it, and anything you work hard for feels great."
Jenna Fausey took the second leg and had the team in fifth-place, just behind third-place Versailles.
"I'm very happy with placing so high," added Fausey. "Our team is so young and didn't have much experience running here. We'll be back next year."
Katie Dahlinghaus went third and started the Wildcats back toward the front, ending her 800 meters with Minster in fourth-place.
"At regionals our times were a little slow so our ranking was low, but we knew that we were capable of being in the top two or top three," state Dahlinghaus. "Our goal was to win (as her teammates quickly pointed out to her), but I"m still happy with third."
Bernadette Burke took the baton for the last leg and quickly worked her way into second-place, but Kesha Brooks from Liberty-Benton (the event champions) stayed with and eventually passed her.
"I tried to stay with her (Brooks) but she kept moving away," admitted Burke. "Trying to stay with that girl took a lot out of me."
For the New Bremen girls, newcomers Taylor Jones and Beke Jeschkies joined Lori Timmerman and Amber Niekamp, who were part of last year's eighth-place team.
The improvement from last year was satisfying for these girls.
After Jones and Jeschkies started the team off in the middle of the pack, the veterans slowly worked their way through the field to claim the fifth-place finish.
"We wanted to at least get eighth, so fifth is a lot better than we were hoping for," explained Timmerman. "We ran all out and ran our fastest times ever."
Amber Niekamp passed a few runners on her anchor leg, and managed to finish almost a second and a half ahead of sixth-place Versailles.
Niekamp summed up the team's performance well.
"Running this well in this horrible weather is great."

Girls Discus
Parkway's Jessica Felver finished 11th in this event, her throw of 105-2 being three-feet short of what was needed to reach the podium.

Girls High Jump
Minster's duo of senior Stacey Sudhoff and sophomore Ashley Meiring fought through the wet conditions to both reach the podium in the high jump, finishing in a four-way tie for seventh-place after clearing 5-0.
Sudhoff placed at the state meet as a sophomore and then did not get a chance to return as a junior since she was the third-best jumper on her own team. As one of the top-two jumpers again this year, she made an unusual return to the podium after a year's absence. She says she never got discouraged last year.
"No, not really, because my coaches and teammates always supported me and I just kept trying to work hard to get back," explained Sudhoff.
As for the effects of the weather, she said she just tried to ignore it.
"We've jumped in hail, snow and sunshine this year."
Meiring struggled more with the conditions and was less pleased with her results.
"Yeah, it's five-inches lower than regionals (where she jumped 5-5)," she admitted. "I'm really disappointed. It was really slippery."
She also noted the distractions from the crew who pushed the water off the surface between jumps.
"It was really funny though. You'd see them and then they'd leave a puddle right where you'd want to jump."

Girls Long Jump
Delphos St. John's star Alisha Anthony repeated as the state champion in the long jump.
Last year Alisha was without any witnesses to her accomplishment as her family skipped the state track meet to attend the wedding of Alisha's sister.
This year her family was out in force to watch her repeat as champion.
"My parents are here," stated a pleased Anthony. "And my sister who got married last year is here."
Parkway's Marian Bevington finished 14th and Anthony's Delphos St. John's teammate Tori Recker finished 16th.

Girls Shot Put
Fort Recovery's Holly Stein finished ninth, and her throw of 37 feet was only 1 1/4 inches short of the eighth-place finisher. Versailles' Christine Borchers finished 16th in the event.

Girls Pole Vault
After a four-hour weather delay, the girl's pole vault was one of the more entertaining events of the day. It came down to a duel between Columbus Grove's Jenna Oard and Versailles' Amanda Barlage, the only two competitors to clear 11-0.
Barlage then cleared 11-3 after Oard passed to gain the advantage.
At 11-6 Barlage cleared on her second attempt and the Versailles crowd went wild when Oard appeared to have missed her third attempt.
However, Oard was awarded another attempt after it was discovered the standards had been incorrectly placed for her first attempt. She made the most of the opportunity, then beat out Barlage for the title by having fewer missed attempts when both cleared 11-9 to set a new state meet record.
Barlage was ecstatic to have set a personal best and to have tied for the state meet record, but a little disappointed not to have won the championship.
"It's the second year in a row I've gotten second-place," explained Barlage. "Each time jumping the same height as the first-place girl."
Coldwater's Janelle Jansen just missed out on reaching the podium. She was one of six athletes to tie for seventh-place by clearing 10-0, but lost out on the podium spot due to tiebreakers.

Boys Discus
Parkway's Jason Fisher was another athlete who just barely missed out on making the platform. His throw in the discus of 147-1 was only a little over a foot short of what would have gotten him into the top eight.
Minster's Andrew Meyer was less fortunate, as his best throw was disqualified and he finished in 16th-place.

Boys Long Jump
Parkway's Josh Fisher was the lone area participant in the long jump, where he finished in 12th-place, but only six inches short of reaching the top eight.

Boys Shot Put
Despite the wet conditions which saw some of the shots get buried so deep in the mud that a shovel was employed to retrieve them, Parkway's Jason Fisher almost threw as far as he did at the regional meet last week.
Many of his competitors did not handle the rain as well, and Fisher finished in seventh-place.
"The first couple of throws the weather didn't really affect me," admitted Fisher. "But after it started to get wetter and rain harder and it got more difficult to throw."