By Bruce Monnin
bmonnin@dailystandard.com
COLUMBUS -- Team championships were not the goal on Saturday at the state track meet, as the highest placing local teams were the Minster girls which finished 11th and Parkway which finished 19th on the boys' side.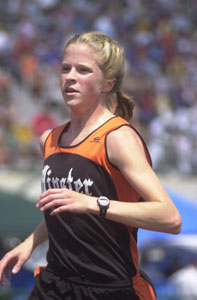 However, 14 individuals or relay teams from the Midwest Athletic Conference managed to reach the podium of top-eight finishers at Saturday's finals of the Division III state track meet.
Parkway's Jacob Fox got the locals off to a flying start when he placed second in the 110-meter hurdles.
Fox made great improvements from last year, when he finished 13th in this event. He also managed to keep his concentration and run a great race despite one of the favorites falling just ahead of him on one of the last hurdles.
"I saw him go down," admitted Fox. "I didn't quite realize what exactly was happening until after I crossed the line." In the 100-meter dash, Delphos St. John's standout Curt Laudick was the next MAC athlete to score as he finished in seventh-place.
Many area athletes competed in the 1,600-meter run. In the girl's race, Minster's Brigitte Sherman started out fast and was in third-place until the last lap when she seemed to slow and was overtaken by a large group of runners.
"I had no idea they were coming," admitted Sherman.
"I kept trying to look back and see people's shadows, but I didn't see any. All of a sudden the whole pack swarmed around me. At that point, I don't even remember what I was thinking but I remember saying out loud, 'Oh, shoot!'" Brigitte picked up the pace after two girls went by but one more passed her at the finish line to drop her into sixth-place, the same position she earned on the podium last year.
Versailles' Mary Prakel finished ninth in the race and Coldwater's Ashley Kanney finished in 13th-place.
The boy's 1,600-meter run saw New Bremen's Jason Dammeyer finish the first lap in second place, then drop into third after the second lap, fifth after the third lap before finally finishing in seventh-place.
"I always try to start out strong and hold on," confirmed Dammeyer about his race strategy. "I know a lot of guys have a big kick at the end, so I try to stay strong the first three laps and just hang on. I'm a senior, so I just wanted to come out here and run my best time and finish my career strong. I ran my PR (personal record) and this is my first time on the podium. I can't ask for more. It's just so exciting."
The 400-meter relay was time for the Delphos St. John's sprinters to display their talents, as their girls' team finished in second place, only to be outdone by their boys' team who edged out Liberty-Benton to claim the state championship in the event.
Next up was the 400-meter dash, and St. Henry's Catie Evers took center stage. She finished in fourth-place, and claimed the exact same spot on the podium that she earned last year.
"I ran my race," explained Evers, "and did as well as I could."
She may have finished with the same placing, but she did manage to shave 0.06 seconds off her time from last year's state meet.
Fox then came back for his second event of the day to compete in the 300-meter hurdles. After his stellar showing in the 110-meter hurdles, he seemed a bit off on his timing as he finished eighth in this event.
"I was hoping for better," admitted Fox. "But I rolled my ankle a little on the 110 hurdles and that hurt a little bit."
Having an area runner place in both of the boys' hurdles races is getting to be a tradition, as New Bremen's Troy Lammers accomplished the feat the previous three years.
Three local runners next competed in the girls' 800-meter run. The top three girls in the event finished well ahead of the pack, but the real action occurred in the group of six girls fighting for the last five podium spots. One of the girls leading this second pack fell just short of the finish line and threw the race in disarray.
Coldwater's Ashley Kanney was right behind the accident.
"A girl fell right in front of me and I tried to go around her," recalled Kanney. "I wasn't sure what place I was at the end."
The meet officials also appeared confused as to the final order of finish and the results were not immediately shown on the big video screen as they were for the other races.
Kanney was forced to go to the awards podium, where several minutes later she was finally given confirmation that she not only had reached the podium, but finished in sixth-place.
Even with the mishap at the end, Kanney was pleased with her performance.
"I had a better time than I had at regionals," said Kanney. "My best of the year."
Minster's Katie Dahlinghaus finished behind the carnage in 10th-place, and Fort Recovery's Mindy Vogel was not far behind in the 12th position.
The boy's 200-meter dash featured two MAC runners, as St. Henry's Ryan Huwer and Curt Laudick of Delphos St. John's had posted identical sixth-place times in the preliminaries. The race capped a successful weekend for Huwer, who wasn't expected to even reach the finals.
"I didn't expect to make finals. I was only ranked seventh in my heat," confirmed Huwer.
This time Laudick got the better of the friendly rivalry, finishing in sixth-place, just ahead of seventh-place Huwer.
"I was hoping to tie Laudick or beat him," added Huwer. "We're good friends, but I still want to beat him."
For the third time on the day, three MAC runners competed in another girl's distance event, the 3,200-meter run. Minster's Bernadette Burke took the early lead, until she was eventually passed by eventual winner Natalie Perzanowski.
"I just wanted to go out and run the race and play off of everyone and see who I could follow," explained Burke. "Then she (Perzanowski) passed me and just kept going and I knew I wasn't going to stay with her."
Burke continued to lead the pack trailing the leader for most of the rest of the race. Second-place finisher Rochelle Rupe passed Burke late but Bernadette put on a furious charge at the end that left her just three-tenths of a second short of second-place.
"I just ran my race and was battling with the other girl (Rupe)," continued Burke. "I wasn't sure if I could get her but I thought I'd give it a try."
Erin Calvelage of Delphos St. John's and Minster's Jenna Fausey finished in 13th- and 16th-places, respectively.
That left just one more race for the area athletes, the always exciting girls' 1,600-meter relay. The New Knoxville relay team (Gina Bambauer, Haley Kruse, Meredith Fledderjohann and Katie Wirwille) was a model of consistency as they were in third-place at the end of each of the four legs en route to their third-place finish.
Battling hard against the Rangers was the New Bremen team (junior Christine Schwartz, sophomore Lori Timmerman, junior Amber Niekamp and freshman Taylor Jones).
After starting the race in the sixth position, the Cardinals began surging towards the front, pulling into a virtual tie with New Knoxville for third-place at the end of the third leg.
New Knoxville pulled away for third and the Cardinals were just nipped at the line by fourth-place Attica Seneca East by one-hundredth of a second to finish fifth-place.
"Everyone went out strong and everyone had a good race," commented Schwartz. "Everyone picked it up once we got here, all the excitement with the crowd (New Bremen fans were in plentiful supply again this year). We have great support from everyone who followed us here."
"Finishing fifth in the state was awesome," added Jones.
With no seniors on the squad, this New Bremen relay team is already looking forward to improving on their performance as a more experienced team next year.