By Gary R. Rasberry
grasberry@dailystandard.com
After seeing his team give up four runs in the bottom of the first against Celina, Coldwater ACME coach Romie Schwieterman wondered how his charges would respond.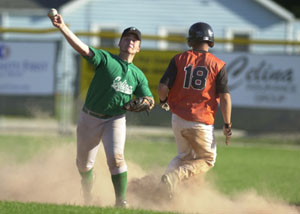 Coldwater knocked in nine runs off three Celina pitchers in the top of the second inning, then saw pitchers Sam Slavik and Bill Geeslin shut down the Bulldogs to get an 11-4 win at Eastview Park on Monday night.
The win is the fourth in a row for Coldwater to put the Cavs at 4-1 on the season while Celina drops to 1-3.
Coldwater scored in the top of the first inning against Celina starter Jimmy Fishpaw, but the Bulldogs took advantage of an unusually wild Slavik in the bottom of the frame.
Matt Paulus led off with a walk and Fishpaw singled before John Bonvillian loaded the bases by drawing a walk. Slavik was able to get Joel Lange to fly to short leftfield and Jeremy Kerr to strike out, but Nick Gray brought home two runs with a single to right and Derek Gagle followed with a two-run single of his own to make it 4-1. It didn't take Coldwater long to get back into the game. Justin Goubeaux led off the second with a walk. Slavik helped the comeback with a single and Brad Brunswick loaded the bases with a bunt single.
Kyle Ahrens lofted a fly ball to center deep enough to score Goubeaux, but Gagle dropped the ball to keep the bases loaded. Tyler James walked to score Slavik and Tony Harlamert singled to bring home another run.
Celina coach Ron Fortkamp called on Bonvillian from second to pitch before Cory Klenke grounded into a fielder's choice to score another run.
Riley Muhlenkamp then doubled in two runs and Keith Schoenherr followed by reaching on an error with Goubeaux returning to the plate to single in a run.
Fortkamp brought Kyle Pfeffenberger to the mound to replace Bonvillian and Pfeffenberger got a pair of groundouts to get out of the nightmare inning.
"It's always interesting to see how a team reacts when they get down," said Schwieterman. "It must have ticked them off or something, because next inning, they came back with a vengeance. That's good to see. We're getting it from all over, which helps. It's not the same couple guys."
From there, pitching took over. Slavik did not allow another hit in the next three innings, walking five and striking out seven along the way to get his first win of the summer. Slavik also went 3-for-3 at the dish with two RBI.
"Sam's been through that before (rough innings). He knows how to react," said Schwieterman of his ace. "He fought back and did a nice job. We have a lot coming up and I didn't want to stretch him out. He had about 90 pitches."
Geeslin came on in the fifth and allowed just one walk over the final three innings to get the long-relief save.
"We gave them about six outs in that second inning," said Fortkamp. "After that, Slavik just put us away. No question about that. Give Slavik a lot of credit. He owned up tonight. Then Geeslin came in a pitched a nice three innings."
"Goose threw a couple-three innings on Saturday, but had a low (pitch) count," said Schwieterman. "We need to see what these guys can do because we lost a lot of pitching. ... All he had to do is throw strikes because our defense has been great so far (not committing an error on Monday)."
Pfeffenberger pitched a solid game after coming on in relief for Celina in the second inning, allowing just one run on three hits over the final 5 2/3 innings, striking out five.
"I thought Pfeffenberger pitched extremely well," said Fortkamp. "The problem is, I can't pitch him every game. We have to get a little better."
All but one spot in the Coldwater order had a hit and Muhlenkamp led the way by going 2-for-3 with two RBI. Tyler James, Goubeaux and Ahrens each scored twice.
Coldwater stays on the road tonight, traveling to Lakeview to face Indian Lake. Celina is off until Wednesday, when it faces Parkway in another county matchup.
Phone: (419)586-2371, Fax: (419)586-6271
All content copyright 2006
The Standard Printing Company
P.O. Box 140, Celina, OH 45822