By Ryan Hines
rhines@dailystandard.com
MINSTER -- Trevor Krogman shook off some early struggles on the mound and got better and better as the game wore on to lead the Parkway ACME team to a 7-2 win over Minster on Tuesday night at Hanover Street Park.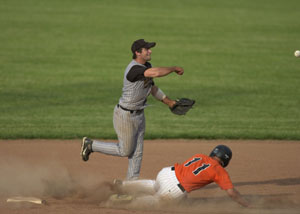 Parkway remains unbeaten on the summer at 5-0 while also handing Minster (3-1) its first loss.
Krogman walked a pair in the first inning and got out of a bases-loaded jam allowing just one run. Aaron Heitbrink scored the Minster run on an RBI single from Eric Bernhold. With the bases loaded and just one out, Krogman picked up a strikeout and induced a pop out to end the Minster threat.
Krogman threw all seven innings allowing two runs on six hits with seven strikeouts.
"Trevor is a Bulldog for us out there," said Parkway ACME head coach Mike Moorman. "He stepped up for us after the first inning and that's what your seniors will do for you. He couldn't get his curveball over early on, but once he starts getting that over for strikes, he's tough to hit and that happened as the game wore on." Minster held onto the 1-0 lead until the Parkway offense came alive in the fourth and fifth innings.
Parkway's Jeremy Heiser and Jensen Painter drew back-to-back walks with one out in the fourth inning before Jordan Thompson tied the game with an RBI double scoring Heiser.
With Painter and Thompson at second and third, Krogman laid down a perfect bunt down the first-base line allowing Painter to score on the RBI groundout with Thompson scampering to third. Thompson made it 3-1 for Parkway by scoring on a wild pitch.
Minster came back with a run in the bottom of the fourth when Vince Fullenkamp led off with a double before scoring on Jimmy Stechschulte's sacrifice fly.
Parkway responded with three more runs in the fifth inning as two Minster errors led to a trio of unearned runs to extend the lead to 6-2. Painter had an RBI single to highlight the three-run inning while a routine groundball was thrown away by Minster to account for the other two runs in the frame.
"I wasn't worried when it was 3-1 because we came right back and scored to make it 3-2, but when they scored three more runs in the fifth inning, that really hurt us," said Minster ACME head coach Mark Wiss.
Heiser added an RBI single in the seventh inning, scoring Derik Snyder, closing out the scoring in the contest.
"It's like they say, 'hitting is contagious,' and that's what happened for us tonight," said Moorman. "We got more comfortable at the plate after the first time through the lineup. We sat on his fastball."
While the offense was scoring in bunches, Krogman found his groove on the hill for Parkway and finished the game with three perfect innings eliminating any Minster come-back ideas.
"He's (Krogman) is a guy that just seems to get better as the game goes on and I've seen this before from him," said Wiss. "He was rocky early on with a couple of walks, but he regained his control and pitched a good game."
Bob Inskeep took the loss throwing the first six frames allowing six runs on five hits with three walks (all of which scored) and four strikeouts.

Phone: (419)586-2371, Fax: (419)586-6271
All content copyright 2006
The Standard Printing Company
P.O. Box 140, Celina, OH 45822