By Ryan Hines
rhines@dailystandard.com
The Grand Lake Mariners had the chance to play their first and only exhibition game on Thursday, and despite not fielding a full team yet, the Mariners looked good in defeating Portland 8-2 at Jim Hoess Field.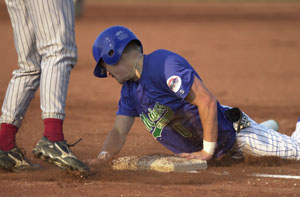 The Mariners showed versatility on offense, near flawless defense and got solid pitching, leaving a smile on the face of first-year Grand Lake manager Scott French.
"I really like what I saw out of these guys tonight. They're here to play baseball and that's their focus," said French, who expects to have a full roster by Sunday. "They came here and started hitting at 4 o'clock today to get used to the wooden bats and I think that we showed a lot of versatility on the offensive side. Before you can do much coaching you have to see what you have and I like what I've seen so far from the guys that we have here."
Thursday was the lone exhibition game prior to the start of Great Lakes Summer Collegiate League play, which begins tonight with the rival Lima Locos visiting Jim Hoess Field at 7:15 p.m. The NCAA regional tournament held a large portion of the roster unavailable and rain prevented the Mariners from playing any other exhibition games.
Grand Lake lead-off man Ryan Chenowith made the biggest splash of all the Mariners against Portland with a 2-for-3 day at the plate with four stolen bases. Chenowith walked to lead off the game and singled in the third inning before stealing second and third base on both occasions and scoring on RBI groundouts. "I liked the versatility that we showed on offense," admitted French, who was an assistant with the Mariners the past two seasons. "I like our at-bats, we made the most out of them each time."
The Mariners played small ball to account for their first four runs. In addition to Chenowith's two runs, Mike Dury (second inning) and Nick Crist (fifth inning) also scored in small-ball fashion. Both had lead-off doubles, Dury scored on two fielders choices and Crist crossed home plate after a sacrifice and a wild pitch for a 4-0 Grand Lake lead.
It wasn't all small ball for the Mariners as Grand Lake connected for four doubles, from four different players, and showed the ability to get a clutch hit with runners in scoring position.
"We showed we can play small ball in the early going by manufacturing runs in the first three innings and then we started to hit some in the gaps for extra-bases and that's great to see for the first time that these guys have picked up a wooden bat," said French.
Dury joined Chenowith as a multi-hit performer in his Mariners debut, while also pitching a shutout inning in the ninth.
Ryan Schmidt started the game on the mound and got the win for Grand Lake with five solid innings allowing just two hits with five strikeouts.
Alex Leugers, from New Bremen, gave up both of Portland's runs in two innings of relief before Chris Capillis and Dury closed the game out with back-to-back shutout frames.

LOCAL FLAVOR -- Thursday's game featured a total of five former Grand Lake Area high school baseball stars from Mercer and Auglaize County.
St. Henry was represented by Lenny Koesters (1-for-3, run scored) and Phil Bruns (1-for-3, run and RBI) while Adam Graves (1-for-5, double) and Matt Steinke (1-for-4) from St. Marys and New Bremen's Alex Leugers (2 inn., 1 ER, 3 H, 2 BB, 2K) all participated in the contest.
COACH HAS SKILLS -- Grand Lake Mariners assistant coach C.J. Webb was able to play in the infield against Portland during this exhibition contest.
Webb went 1-for-4 with a run scored while playing second base for Grand Lake.
"At least he could say that he got a hit in his last game," laughed French.
Phone: (419)586-2371, Fax: (419)586-6271
All content copyright 2006
The Standard Printing Company
P.O. Box 140, Celina, OH 45822