By Ryan Hines
rhines@dailystandard.com
The Grand Lake Mariners opened the 2006 Great Lakes Summer Collegiate League season with an impressive 8-1 victory over the Lima Locos on Friday night at Jim Hoess Field.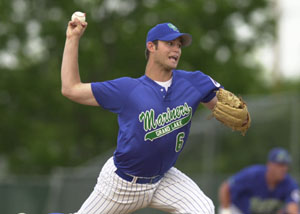 Tyler Baatz, Jeff Loveys and Michael Wilson combined to limit the rival Locos to just six hits while the Mariners (1-0) offense exploded for 11 hits, four of which went for extra bases.
"We got pretty good pitching, good offense and some good plays on defense tonight and picked up a big win to start the season," said Grand Lake first-year manager Scott French.
Baatz picked up the win on the hill for the Mariners going the first six innings allowing four hits and one run with six walks and two strikeouts.
Loveys, who was with the Mariners a season ago, then threw a pair of shutout innings allowing two hits before Michael Wilson came on for the ninth and recorded two strikeouts in a 1-2-3 conclusion for Grand Lake. "He was effectively wild and did a nice job for his first time out tonight," pointed out Lima Locos head coach Rob Livchak, referring to Baatz. "He seemed to go 2-2 or 3-2 on just about everybody, but then he would all of a sudden come back with a dandy slider or a fastball on the black. Those guys are all hard to hit off of."
The Grand Lake pitching trio allowed just one run, but Lima stranded 12 runners on base while also hitting into a pair of double plays. The Mariners pitchers walked eight Locos in the game while the defense also committed three errors.
"We gave them a lot of opportunities, especially early, but when runners got on our pitchers seemed to pound the strike zone and handed it over to their defense," said French. "This is a wooden bat league where the batter is already at a disadvantage, so you don't have to pitch around guys and you have to pound the strike zone."
"We didn't take advantage of the free passes, but I felt that we made some good contact on balls that were hit right at defenders," said Livchak. "By the end, I think we had six or seven at-them balls. We got runners on but we just didn't get them in."
The switch from aluminum bats to wooden bats doesn't seem to have bothered the Mariners with a double-digit hit performance in the season debut.
Mike Dury was the star offensive player with two hits, including a mammoth two-run home run, three RBI and two runs scored, from the five-hole in the Grand Lake lineup.
"He (Dury) didn't get a whole lot of at-bats at Notre Dame, but since he's been here, he's been swinging it well," pointed out French.
Brooks Hunton scored three times as part of a 2-for-3 day at the plate while Quentin Brown, Sean Harelbeck and Nick Crist also had two-hit days for Grand Lake.
Grand Lake scored two runs in the first inning, two more in the third inning, a single run in the fifth frame and capped the scoring with three in the seventh.
Harelbeck had a two-run single in the third and Dury's two-run blast came in the seventh to highlight a strong offensive day by Grand Lake.
"We were really slow out of the gate last year, got better in the second half, but it's good to see some offense early that we can build on," stated French.
Andrew Chapman plated the only Lima run in the third inning with a RBI single scoring Jay Morrow, who led off the frame with a double.
The Mariners (1-0) are back in action again on Sunday hosting Delaware for a doubleheader starting at 2 p.m.
NO BOLEYS -- Neither Scott or Sean Boley saw action for the Lima Locos on Friday night, but for different reasons.
Scott Boley, who played for Grand Lake last summer, is out for most of the summer after having surgery following a torn meniscus on his right knee.
Sean Boley, who is a second-year player with the Locos, was on-deck in the ninth inning for Lima when the final out was recorded.