By Nancy Allen
nallen@dailystandard.com
Many farmers in Mercer County have had to replant corn and/or soybeans this year, some of them twice, making for a frustrating and expensive start for the season.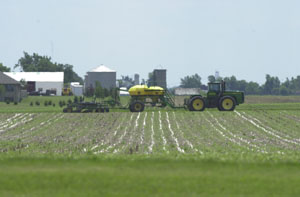 "The periods of cold and wet weather we have had since the middle of May on and off have contributed to the largest percentage of producers replanting crops since I have been here in 1993," said Chris Gibbs, Mercer County Farm Service Agency executive director.
Gibbs said scores of farmers visiting the FSA office in Celina to certify their crop acres have reported replanting in spots where their crops died from root rot due to too much rain or say they have to replant entire fields. Some farmers in the northwest corner of the county still haven't finished planting the first time because it keeps raining, he said.
In a few instances, some producers have destroyed their failed corn crop and plan to plant soybeans. But most producers do not have that option because the herbicides they applied for corn will kill soybeans, Gibbs said. Farmers have a longer time period in which to plant soybeans than they do corn.
Celina area farmer Dennis Howick said he is getting ready to replant soybeans for the second time. His corn, which he planted in late April, is doing well. Howick said he initially had to replant 75 percent of his entire soybean crop due to a cold, wet spell in early May. He replanted on May 31, the day before a huge rain storm soaked much of the county. Now, he will replant again later this week if no more rain comes, but this time in patchy areas where the soybeans haven't come up.
Howick said the replanting will add up to a big expense that will be hard financially for the operation because he's had to buy more seed each time he replants. And his particular crop insurance policy does not include a stipulation for replanting.
"Some seed companies will furnish corn seed for replanting, but almost everybody replanting beans will have to buy it again," he said.
Some farmers trying to make hay also are having a rough time, said Mercer County OSU Extension Agent Todd Mangen.
"We cut it a few days before Memorial Day weekend and then we got rain on Memorial Day and then rain every other day," he said. "It was so full of mold (from moisture) we just had to burn it."
Overall, the corn in the county that was planted in early April looks pretty good, containing a few spots of nongrowth due to rain, Mangen said. But the corn planted after that is uneven and contains many bare patches.
The county's soybeans that have emerged are holding steady, he said, particularly the ones planted earlier. The excessive rain and cooler weather slows the growth and can stop germination.
This year is worse than last year for replanting, local farmers and agriculture officials agree, because last year it was mostly corn that was affected, but this year many have had to replant both corn and soybeans. Farmers who had to replant corn last year also had a longer window to do so, whereas many ran out of time this year because the rains came later and more often.
Ron Frahm, who grows corn and soybeans between Rockford and Chattanooga, said he replanted a couple fields of corn and plans to replant a soybean field as soon as the ground dries up.
Frahm too said this year's replanting will be costly to his operation, but it could always be worse.
"Yeah, the extra cost is going to be there, but that's why we carry crop insurance," Frahm said.
The difference between some good fields and those doing poorly many times depends on when producers get their crops planted and a good amount of luck.
"It all comes down to a timing issue. If our corn was put out a week or so earlier or later, it may have been okay," Frahm said. "And years ago when you put out 20 acres a day, that was good, but nowadays when you can put out 200 acres a day, it makes for a bigger mistake."
Gibbs said currently there is no assistance from FSA for prevented, failed or replanted crops, though there might later be a natural disaster declaration that would release federal disaster payments, but there is no guarantee of that.
"We are a long way from any congressional authorization for that," Gibbs said.