By Gary R. Rasberry
grasberry@dailystandard.com
The Parkway Panthers survived a furious upset bid by Celina to stay unbeaten on the season with a 7-6 nail biter over the Bulldogs on Tuesday at Eastview Park.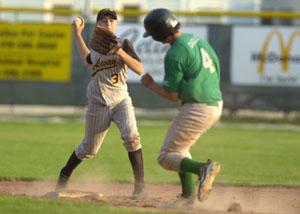 Parkway improves to 9-0 on the summer as Celina drops to 2-5.
Things started out well for Parkway as it scored three runs off Celina starter Kyle Pfeffenberger in the top of the first inning. Celina responded by putting the first four men on base and came away with two runs off Panther starter Levon Archer, thanks to back-to-back doubles by Nick Gray and Jimmy Fishpaw.
After that, the teams traded runs through the rest of the game in a back-and-forth affair. Parkway added three more runs in the third to go up 6-2, only to have Celina add a run in the bottom of the inning and two more in the fifth to get to within two runs at 6-5.
Parkway added another run for Archer in the top of the sixth, then Panther coach Mike Moorman brought on Ethan Hayes to close things out in the bottom of the inning, but Celina didn't go quietly. Andy Sell came on to pinch-hit and singled to short right before Matt Paulus bunted toward third to move the runner up, but reached base as Archer, who moved to third after his mound work, made an error. Gray then decided to try and bunt himself, sprinting down to beat the throw at first base for a single to load the bases.
Hayes then got Fishpaw to pop back to the right of the mound for one out, then Derek Gagle grounded to second to force out Gray, but to scored Sell to cut the Parkway lead to 7-6.
Eric Loughridge ended the inning by grounding to Archer at third, who made a solid throw to first to get the final out.
"We got a little antsy," said Moorman. "Ethan came in and did a good job out of the bullpen. Knock on wood, he still hasn't walked anyone yet. If we want to get beat, we want to get beat by them hitting the ball."
After Pfeffenberger shut Parkway down in the top of the seventh, Hayes came back and shut the door on Celina. Jeremy Kerr flew out to left for the first out, then Joel Lange grounded to Eddie Burtch at second for the second out before Dustin Abrahamson then popped behind the plate, allowing Jensen Painter to bounce up and make the catch to end the game.
Moorman was very complimentary of Celina.
"Celina is a very good team. I think they're going to shock some people this year," said Moorman. "Their record is very deceiving. They came out and hit the ball. They're battlers. We have them down and they came back."
Pfeffenberger went the distance for Celina giving up 11 hits and seven runs -- five earned -- while striking out six along the way.
"He pitched a tremendous game," said Celina coach Ron Fortkamp. "We couldn't ask anything more out of him, no matter what. He did a nice job.
"We played better. I challenged the seniors and they stepped up a little bit. ... Parkway has a nice team. Every time Pfeff got a pitch up, they made him pay."
Gagle went 3-for-3 in the contest while Gray added a 2-for-4 night.
Kyle Hamrick went 3-for-4 with three RBI to lead Parkway while Derik Snyder, Jordan Thompson and Archer each added two hits.
Both teams are on the road tonight. Parkway has a big county matchup at Coldwater while Celina travels to Marion.
Phone: (419)586-2371, Fax: (419)586-6271
All content copyright 2006
The Standard Printing Company
P.O. Box 140, Celina, OH 45822