By Shelley Grieshop
sgrieshop@dailystandard.com
Like laundry flapping in the wind, Evin Bachelor's colorful flags were hanging by clothespins in his backyard on the warm late-spring day.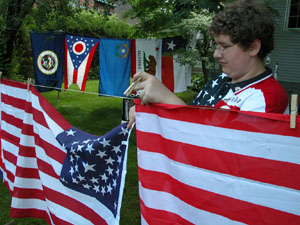 As neighbors smile and take pictures of the sight, the 13-year-old Celina Middle School student proudly poses beside his prized collection.
"I started collecting flags after Sept. 11. I don't know exactly why, I just wanted to," says the young man, wearing a shirt designed as an American flag.
Flag Day, observed Wednesday, was a perfect time, Bachelor thought, to "air out the wrinkles" that accumulated on the nylon and cotton flags normally kept boxed indoors. So, with string stretching in three directions between tall trees and bushes, the 20 flags wave slightly in the afternoon breeze.
A U.S. Marine Corps flag and a red Ohio State University Buckeyes flag enjoy front yard status near the family's tall flag pole. "I have a cousin going in the Marines soon," he says, explaining its significance.
Bachelor, the son of Jeanette and Rick Bachelor, found some of his flags on the Internet, received others as gifts and even handmade a few. Most were purchased for less than $10, "minus shipping and handling," he says.
His patriotism is obvious and he likes to share the message.
"One of my American flags is hanging at my neighbor's. She's at a nursing home, so I put one out for her today," he says with a grin.
His red, white and blue beauties include a 13-star and 13-stripe Betsy Ross and a 32-star flag that flew from 1858-1859.
Once he began purchasing flags, he couldn't stop, he says.
"After I got all my American flags, I needed some more to go with them," Bachelor explains.
He has a beautiful blue Israeli flag that actually came from Jerusalem, courtesy of his mentor at St. Paul's United Methodist Church, Celina. He also made two flags for the church, he adds.
His collection includes flags representing the earth, the United Kingdom and the Republican party. A sister in Nevada and a brother in Minnesota brought back flags from those states. A confederate flag brings a smile to all his redneck friends and a brand new Christian flag, decorated with a simple cross, likely makes his pastor pleased.
Bachelor also publicizes his love for the Celina Bulldogs and The Ohio State University, but is equally as proud of the flag he designed in third-grade for a children's author who came to the school.
He also collects and wears lapel buttons like the large one on his chest that shows his displeasure for giving amnesty to illegal aliens. He's apparently not shy about his patriotism or his opinions.
His goal is the same as most collectors.
"I want to get every flag that I can possibly get," he says.
As dusk falls, he'll carefully fold his collection and store it away for another day, likely the Fourth of July. He knows an American flag left out after dark must be kept lit.
"I'd have to run a lot of flood lights out here to keep all these lit up," he jokes.
His other concern is for the flags he handcrafted from markers.
"It might rain," he says, looking up at the clouds. "The colors would run, and I'd have a real mess on my hands."