By Gary R. Rasberry
grasberry@dailystandard.com
COLDWATER -- Parkway broke a 3-3 tie by scoring one run each in the fifth and seventh innings before adding two insurance runs in the sixth frame to beat Coldwater, 7-3, in Mercer County ACME action at Veterans Field on Wednesday night.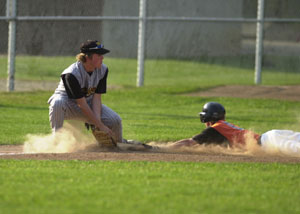 The win keeps Parkway perfect on the summer at 10-0 as Coldwater drops to 9-4 with the loss.
"Anytime you play Coldwater, it's a big rivalry, it's going to be a good game," said Parkway coach Mike Moorman, a veteran of the yearly battles during his days as a Coldwater player. "There's two good programs here, the Coldwater coaches do a helluva job over there. We played an aggressive ballgame today."
It was a game where Parkway ace Trevor Krogman struggled with his control but was effective nonetheless. The southpaw walked seven batters in the game, but made up for the walks by scattering just three hits, none after the third inning, and striking out six to get the win.
"He's a bulldog," said Moorman. "I say that every time. He steps up to the challenge." With the score tied at 3-all in the top of the fifth, Parkway broke the deadlock. With one out, Kyle Hamrick laid down a perfect bunt single down the third-base line before Krogman followed with a bunt of his own, moving Hamrick to second. Joel Henkle grounded to short, where Tyler James could not field the ball, allowing Hamrick to score the go-ahead run.
In the sixth with two outs, Parkway's Jeremy Heiser bunted for a single and Jensen Painter took Bill Geeslin's next offering over the fence in left for a two-run homer to make it 6-3.
The final run came in the seventh when Henkle drove in Hamrick, who singled to start the inning and moved to second on a Krogman sacrifice.
Meanwhile, Coldwater was stagnant after scoring three times in the first three frames. After getting three singles in the the first three innings, the only runners to get on base afterwards came on walks by Krogman.
In the sixth, the Cavaliers had a chance to put a dent into the lead when Krogman walked Riley Muhlenkamp and Sam Slavik back-to-back to start the inning. Justin Goubeaux bunted the runners up a base with just one out, but Krogman recovered, striking out Kyle Ahrens, then enticing Tony Harlamert to fly harmlessly to Heiser in center for the third out.
Coldwater coach Romie Schwieterman, who usually is jovial after games, was a little subdued after the game.
"I don't know if the wheels fell off, because I don't know if they were ever really even on," said Schwieterman. "Our team bus was on the hoist all night. Our enthusiasm took a week's vacation or something. We talked down there, Parkway is a very good team. They were definitely much better in all phases of the game tonight.
"I just don't understand how you can't get up for a game like Parkway. We're missing something," added Schwieterman.
Hamrick continues a blistering week of hitting the ball. After going 6-for-8 in his first two games this week, Hamrick added a 3-for-4 game with three runs scored to pace the Panthers' offense. Painter, Henkle and Marcus Meyer, called up Wednesday from the junior ACME team, added two hits each.
"I think he's 13 of his last 17," said Moorman of Hamrick. "He's smoking the ball. He's hitting in the five hole and getting pitches to hit. He can also lay down the bunt. I can't say enough about him."
Cory Klenke led the Cavaliers by driving in two runs with a single in the third.
Parkway returns to Don Black Field in Rockford tonight to face Marion in a county circuit contest. Coldwater is off until Friday, when it hosts its annual weekend round robin. Coldwater plays LCC at approximately 8 p.m. on Friday and will play at 11 a.m. and 6:30 p.m. on Saturday.