By Laura Walker
lwalker@dailystandard.com
FORT RECOVERY -- Steam engines and dray wagons are long gone, but the train depot still stands in Fort Recovery.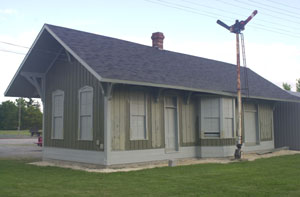 The depot in Ambassador Park is undergoing a $15,000 restoration and is nearing completion, says Arnold Beumer, Ambassador Club spokesman. The depot houses the Ambassador Club headquarters and provides a meeting place for other local organizations.
During the Fort Recovery Jubilee this weekend, the depot will be emptied of stored Jubilee supplies and is expected to be a busy place, just as it was in the early 1900s.
In 1976 the depot was moved from its original location at North Wayne Street to the edge of Ambassador Park. The depot still sits on the same rail line, but no longer has tickets, freight or a conductor.
The rail line has changed names during the years, starting as the Nickel Plate Railroad and currently named the N&W Railroad. At the North Wayne Street location, the depot was busy 24 hours a day with six trains daily, three each direction. Now the track, which connects Lima to Muncie, Ind., rarely has a train on it, says Harold Ranly, 77, of Fort Recovery. Along with opera stars, the train brought coal, lumber, groceries, cattle and liquor to town. The cargo was dropped off and a dray wagon made deliveries around town.
Ranly remembers draymen William Smith, Tony Lamn and George Stone. A team of horses pulled their wagons stacked high with crates.
In 1941, during World War II, local veterans and women would meet the "troop trains" at the depot every night. Soldiers traveling through would receive a good meal, cigarettes, coffee and soft drinks, Ranly says.
Restoration of the depot isn't just new paint and siding. The floors were resealed and quick-fixes were redone with a proper solution, says Arnold Beumer, Ambassador Club. He says, Heitkamp Construction and Al Warnok's work is done, it is just left to tying up the loose ends.
The project was made possible by a donation from Kent Enderle, who runs the Enderle Pull-off tractor pull. The tractor pull was held for almost 20 years at Ambassador Park, but is being moved to a bigger location in Urbana this year.
Enderle says it is a bittersweet move. In appreciation of the years of service from Fort Recovery, he offered an undisclosed donation for a community project.