By Gary R. Rasberry
grasberry@dailystandard.com
Celina ACME coach Ron Fortkamp shook his head as his players groomed the field and packed up the equipment before saying, "Right now, if I could find the on/off switch, it would help."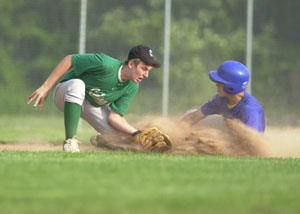 After trailing St. Marys 11-2 going into the bottom of the fifth inning, the Bulldogs managed to find the switch, scoring 10 times in the inning to take a 12-11 lead. St. Marys tied it up in the sixth and took a 13-12 lead in the eighth before Celina rallied again to force a ninth inning.
Finally in the ninth, with the bases loaded, Andy Sell made up for missing the bunt sign a pitch earlier, pushing a bunt on a two-strike count down the first-base line, allowing Nick Gray to score the winning run in a wild 14-13 win at Eastview Park.
Celina improves to 5-5 on the season as St. Marys remains winless on this summer at 0-7.
With Celina facing a possible run-rule if St. Marys scored more in the sixth, things started coming together. Gray and Derek Gagle led off the fifth with back-to-back doubles for a run and Eric Loughridge brought home Gagle with a single but was out trying to run to second.
With two outs, Dustin Abrahamson walked and Keith Neighbors, getting the call up from the junior ACME team to play third, singled after Sell came home on a passed ball. Matt Paulus walked to load things for Jimmy Fishpaw, who singled in two runs. Gray stepped up and reached on an error to score two more Celina runs.
Gagle then walked and Loughridge drove home two more runs before Cullen Flinn came on for St. Marys to try and end the Celina surge, but Jeremy Kerr greeted Flinn with a two-run double to give Celina the lead.
"I'm really happy how we came back," said Fortkamp. "We weren't in the game for the first four innings. We're not playing smart baseball. Right now, if I could find on/off switch, it would really help. We've got the ability."
"We've just got to learn to put a complete game together," said St. Marys coach Tony Griffith. "We made some changes defensively and have to learn to hustle. Our subs need to be ready to come in."
Kerr, who came in as the third pitcher for Celina, gave up the tying run in the sixth after walking John Nunnally and allowing him to steal two bases, Russell Sweeny lofted a one-out fly to right to tie the game.
St. Marys took the lead again in the eighth, when Victor Long tripled to left before scoring on a wild pitch to make it 13-12.
However, Celina rallied again as Sell had a one-out single to left before Pfeffenberger doubled to deep right-center allowing Sell to score the tying run.
In the ninth, Gray led off for Celina and was hit by a 2-2 pitch before Gagle followed with a single to put two Bulldog runners on base. Long came in from right to replace Flinn on the mound for St. Marys and gave up a free pass to Loughridge loading the bases.
With Sell at the dish, on a 1-1 pitch, Gray came charging as the squeeze was on, but Sell missed the sign and swung through for a strike. Rammel chased Gray down the third-base line and made it back safely.
On the ensuing 1-2 pitch, Sell went for the bunt again and this time pushed it perfectly along the first-base line and reached first as Gray crossed home plate with the winning run to end the game.
"He almost had to get that (the bunt) down because he missed the bunt sign right before it," said Fortkamp of Sell's game-winner. "He probably wouldn't want to talk to me if he missed that one. That's a pressure situation. You know what? He did the job.
"St. Marys came over and played a heckuva ballgame. We did all our hitting in one inning, and hitting's contagious. At least we hung in there when they came back. We had a lot of kids do a lot of good things."
"We came out strong at the beginning. They seemed like they were ready to play tonight," said Griffith. "We made some changes in the fifth inning (replacing four players). It was mental mistakes, both theirs and mine."
Sell went 4-for-6 in the game with two runs batted in. while Gagle, Loughridge and Kerr each added three hits. Celina pounded out 17 hits on the night, six going for doubles.
Celina is off until Saturday, hosting St. Henry White for a doubleheader while St. Marys is at Van Wert tonight.