By Ryan Hines
rhines@dailystandard.com
The University of St. Francis must have seen enough of Celina's Kinsey Schumann before her senior year to realize that she was college softball material.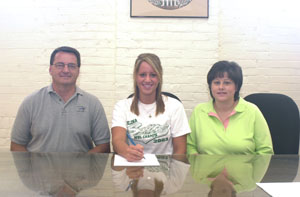 Playing in just one full game before a season-ending injury as a senior didn't bother St. Francis as Schumann will play for the Cougars next season.
"I visited a lot of other schools, but when I got to St. Francis, it just felt right," said Schumann, who hasn't chosen a major but plans to go into the medical field. "They offered me academic and athletic scholarship ($5000) and in the end it just felt right at St. Francis. I was looking for academic and athletic financial help and they came through with everything that I was looking for."
Schumann was 2-for-3, both hits were doubles off the base of the fence, in the season opener but broke the very tip of her right index finger at the joint in the Bulldogs' second game.
"I turned into the pitch and it hit my finger while I was hitting and broke the tip of my finger," recalled Schumann. "I was pretty sure that I broke it right away so we went to the hospital and the doctor told me eight weeks and that my high school career was over." The Celina senior already committed to St. Francis two weeks prior to the broken finger and Schumann has heard nothing but kind words from the Cougars' coaching staff since the injury.
"Two weeks before I broke it, I had already decided to go to St. Francis," said Schumann, who admits that the finger is still a little sore. "The coach was backing me and telling me to stick with it and be ready for next year."
It was a devastating injury for Schumann.
"I was so upset when I got hurt, I was just mad," recalled Schumann. "I wanted to break all these records this year, but being injured kept me out almost the whole year (except for first game)."
Schumann would have been a valuable addition to the Bulldogs' lineup this season as a would-be ace on the mound with teammate Melanie Heyne along with a powerful offensive force in the middle of the batting order. The Bulldogs had a strong campaign with a record of 21-2 to go along with a share of the Western Buckeye League title and it was bittersweet to watch for Schumann, wishing she could have contributed to the overall success of the team.
"It was horrible," said Schumann about attending Celina games and being unable to play. "I hated it. It's hard to watch a team do so good without you and unable to contribute. I tried to give support from the bench, but it was really difficult."
With her senior softball season ruined by injury, Schumann has set her sights on the future.
"I had to have a cast on for eight weeks and I wear a splint at night, but I feel pretty good right now. Hopefully I can start throwing within the next two weeks," said Schumann, who also strongly considered Ohio Dominican, West Liberty State and Charleston. "Right now I'm going there to pitch, but that could change. I prefer pitching and that's what I want to do, but you never know."
The St. Francis program is under the guidance of third-year head coach Ryan Bolyn, who has taken the Cougars from 11 wins his first year to 20 victories this past spring.
Schumann was a three-year letterwinner and a starting pitcher on the varsity level as a freshman on up before the injury cut her career short for the Bulldogs.
Schumann and Heyne were expected to share the pitching chores for the Bulldogs this season with whoever isn't pitching playing third base.
Early success sparked Schumann's decision to play softball during college.
"I think that when I was a sophomore, I was pretty sure that I wanted to play softball in college," admitted Schumann. "I started getting contacted by some schools when I was a freshman after throwing a no-hitter and doing well in the WBL."
Phone: (419)586-2371, Fax: (419)586-6271
All content copyright 2006
The Standard Printing Company
P.O. Box 140, Celina, OH 45822