By Shelley Grieshop
sgrieshop@dailystandard.com
Sunburns, ear infections, diving board scrapes. Oh, the joys of hot summer days at the pool.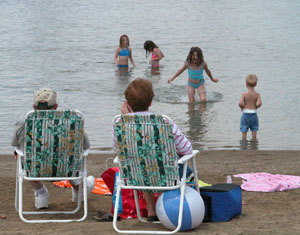 But alas, swimming at a public pool or beach doesn't have to end with blisters and trips to the doctor's office if a little common sense is used, say area health officials.
"One of the biggest problems we see in the summer is sunburn, those first-degree burns without blisters," says Dr. Carla Cameron, an emergency physician at Mercer County Community Hospital in Coldwater.
Emergency room doctors say they frequently see children with painful, red skin after parents fail to apply sunscreen to the youngsters. Cameron recalls treating a 6-month-old with blisters to the face -- a heart wrenching sight that could have been avoided.
"Children, especially infants and toddlers, should have a sunscreen with an SPF (sun protection factor) of at least 30, and it should be reapplied often when the child is in and out of the water," she says. Water, whether in a pool, lake or ocean, reflects the sun and causes the skin to burn much quicker. Sunscreen lotions containing zinc oxide, titanium dioxide or avobenzone, and those dubbed water resistant are best, experts say. According to the American Academy of Pediatrics, regular use of sunscreen in children can lower their risk of skin cancer by almost 78 percent.
Many people get a false sense of security when they wear sunscreens. Even the best products on the market do not fully protect from the harsh UVB rays of the sun that can cause cancer and promote wrinkles, experts say.
Lana Hinders, the director of emergency services at Joint Township District Memorial Hospital, St. Marys, suggests avoiding the hot sun from 10 a.m. to 4 p.m. Longterm sun exposure should be avoided altogether for babies under 6 months old, she says.
Treating sunburn in older children and adults can include ibuprofen or steroid creams if blisters aren't present, Hinders says.
"A cool bath is good for the skin and fluids should be encouraged to replace what was lost," she explains. "If you have open blisters, pain or swelling, get medical help."
The sun isn't the only culprit that can cause problems outdoors. Beware of the water, says Auglaize County Infectious Disease Nurse Deb Scheer.
"If you or your child has diarrhea, please don't go swimming," says Scheer. "Children naturally get pool water in their mouths, swallow it and can get very sick."
The chlorine placed in pools kills most things but not right away, Scheer says. Germs like cryptosporidium can stay in the pool for days.
"Even the best maintained pools can have bacteria," she says.
That theory was proven true in 2004, Scheer says, when the New Bremen pool was closed temporarily after tests revealed "crypto" parasites, a bacteria associated with diarrhea.
Scheer suggests giving little ones frequent potty breaks, changing diapers in the bathhouse and not pool side and washing hands frequently.
Municipal swimming pools and those found in hotels and fitness centers are inspected twice a year by the local health department, says Michelle Kimmel, Mercer County's director of environmental health.
"We test the chlorine in the water to make sure the correct amount is being maintained. We also check flow rates to make sure everything's fed through the filters properly," Kimmel explains.
County health officials also determine if lifeguard equipment is readily available and other safety measures are being followed, she adds.
Celina city officials are responsible for checking bacteria levels at Huffy's pond along state Route 29, where sun worshippers and swimmers congregate all summer long. If a water sample comes back with a high fecal level, the health department is notified and the beach is ordered closed. That scenario occurred last summer due to a high fecal level from waterfowl that also frequent the pond.
The beaches along Grand Lake come under the jurisdiction of the Ohio Department of Natural Resources.
Heat exhaustion or stroke, poison ivy and insect bites also rate at the top of the list for summer fun-busters. But health professionals believe most problems can be avoided by being prepared before you step outside.
"Just remember to plan ahead, protect yourself and your children so you truly can enjoy the summer," advises Scheer.