By Shelley Grieshop
sgrieshop@dailystandard.com
Three local men -- including a train engineer and conductor -- were injured when a grain truck struck a train and caused it to derail at state Route 219 in St. Marys Township on Wednesday morning.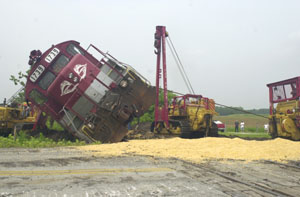 The men suffered only minor injuries and refused medical treatment at the scene. Aboard the train's front engine, which overturned, was Engineer David T. Hague, 27, 2952 Oregon Road, Rockford, and Conductor Nathan R. Stroh, 26, 131 Clearview Court, St. Marys.
The driver of the westbound truck, which was carrying about 500 bushels of shelled corn, was Allen L. Spoltman, 36, 2571 Clune-Stucke Road, Maria Stein. The straight truck is owned by R&S Farms of Celina, a business co-owned by Spoltman. Spoltman was cited for failure to yield at the railroad crossing.
A crossbuck and yield sign are the only signs warning motorists of that particular train crossing.
The accident, which occurred at 9:33 a.m., closed the roadway most of the day so railway crews could fix the bent track and upright the R.J. Corman train engine and another railway car that was leaning. The Ohio Department of Transportation officially opened the highway at 8 p.m. Wednesday. Long skid marks were evident at the scene where Spoltman, traveling approximately 45 mph, attempted to stop on state Route 219, between state Route 66 and County Road 66A. The northbound train's speed was estimated at 6 mph.
Trooper Jason Cummins of the Wapakoneta post of the Ohio State Highway Patrol said the truck struck the much-heavier train in such a way that it moved it off the tracks.
"He (Spoltman) hit the front of the engine in just the right place," he said.
Spoltman told the trooper his truck struck the engine low enough that it caused it to raise up, leave the tracks and tip over onto its left side.
About 75 bushels of corn were spilled across the scene, but it wasn't the grain that caused the biggest problem. Oil leaking from the train's engine brought emergency management agency crews to the scene to oversee clean-up procedures and contain the fuel. Interdyne Corp. of Lima, a hazardous waste clean-up company, took about 800 gallons of fuel from the train before it could be safely moved, Cummins said.
Both the train and the truck sustained heavy disabling damage.
Also assisting at the scene was the St. Marys Township Fire Department.
Phone: (419)586-2371, Fax: (419)586-6271
All content copyright 2006
The Standard Printing Company
P.O. Box 140, Celina, OH 45822