By Ryan Hines
rhines@dailystandard.com
The beginning of a busy schedule featuring eight games over a six-day stretch has not gone well for the Grand Lake Mariners.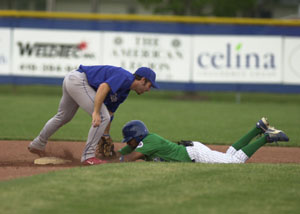 Grand Lake lost its second straight game at Jim Hoess Field on Wednesday night as the Cincinnati Steam slipped past the Mariners, 4-3.
Cincinnati scored two runs in the third and fifth innings and held off a late Grand Lake rally to improve to 9-3, the best mark in the Great Lakes Summer Collegiate League. The Mariners slip to the .500 mark at 6-6.
"I think that we came out a little flat today as a whole," pointed out Grand Lake Mariners manager Scott French.
Grand Lake out-hit Cincinnati 7-5, but the Marines struggled with collecting the clutch hit. Trailing 4-2 entering the bottom of the ninth, Grand Lake had its fans on their feet, despite two quick outs.
Quentin Brown crushed a double to right-centerfield and Mariners pinch-hitter Brooks Hunton then connected for another double driving home Brown and cutting the Cincinnati lead to just one run at 4-3.
Kevin Cislo entered the game as a pinch-runner for Hunton at second representing the game-tying run but Sean Hoorelbeke lofted a lazy fly ball to centerfield ending the Grand Lake comeback.
"We just couldn't get the big hit when we needed it for the most part tonight," said French.
Charlie Leesman picked up the win on the hill for the Steam with four shutout innings, scattering three hits.
Tyler Baatz, who entered the game with a 10.12 ERA in his first two starts, threw a solid 72Ú3 innings allowing four runs (three earned) on five hits with four strikeouts. Baatz, who did hit three Cincinnati batters, got better as the game wore on retiring 11 of the last 12 Steam hitters he faced before leaving the contest with 112 pitches thrown.
"We gave up some free runners and they turned into free runs early on, but overall, I was pretty happy with the way that Tyler threw tonight," admitted French. "He pitched well enough to win this game and he went deep in the ball game, which is something that's nice to see with the type of schedule that we still have for this week."
Grand Lake hits the road today to face Xenia tonight followed by a road trip to Lake Erie on Friday. The Mariners will return home on Saturday for a doubleheader against Granville before traveling to Athens on Sunday to face Southern Ohio in a twinbill.
NOTES -- The GLSCL announced its Players of the Week with Cincinnati shortstop Kory Lonergan and Delaware's John Baird taking the top honors. Lonergan, who hit .353 with 12 hits and five stolen bases to earn the award, didn't play against Grand Lake on Wednesday. Baird threw eight shutout innings allowing just two hits with nine strikeouts to be named Pitcher of the Week. ... Former Grand Lake Mariner Dan Weiss returned to Jim Hoess Field on Wednesday and was roughed up for two runs and two hits with four walks in just three relief innings. Weiss played for the Mariners last season. ... Brian Rumple threw 11Ú3 innings of perfect relief for the Mariners.
Phone: (419)586-2371, Fax: (419)586-6271
All content copyright 2006
The Standard Printing Company
P.O. Box 140, Celina, OH 45822