By Shelley Grieshop
sgrieshop@dailystandard.com
Miriam Fetters watched out her front window as the sky grew darker and darker Thursday afternoon.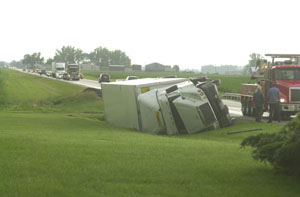 "It was like a brown wall out there. I couldn't even see my neighbors' house down the road," said Fetters, who lives near Mendon.
Within minutes, the family's barn was ripped apart and debris was left scattered across the countryside. Farm machinery stored inside was damaged as the building's remains hung across it. Her husband, Robert, farming on an old tractor a few miles away, was caught in the storm, but made it home safely, she said.
Local and national weather officials this morning are still trying to determine if tornadoes actually touched down along a 4-mile path that cut across the area or if the widespread damage was the result of high winds that reached 80 mph.
According to the National Weather Service, a complex thunderstorm system brought funnel clouds, hail and intense rain through northern Mercer County and the surrounding area. Trees toppled, power lines fell, transformers ignited and numerous homes, barns and other buildings were damaged. Mercer County Sheriff's Deputy Lance Crum was responding to an injury accident at state Routes 49 and 707 as the storm moved in about 2:45 p.m., according to 911 Coordinator Monte Diegel.
"Things unfolded very quickly at that point," Diegel said.
Crum and numerous other residents called central dispatch after spotting a funnel cloud on the ground in the Mendon and Chattanooga area. Tornado warning sirens immediately were activated in those areas as well as Rockford and Celina, he added.
"Our phones exploded for about 45 minutes or so," Diegel said.
Because the storm hit during a shift change, extra dispatchers were thankfully on hand to help, he said.
Tree limbs, patio furniture and other items still littered the streets of Rockford along Main Street as residents told their stories following the storm.
"We were out swimming when the wind picked up, and we got inside quick," said Betsy Schoenleben, who was with her 7-year-old twins and 2-year-old at her parents home on South Main Street.
Trash cans, cardboard boxes, pillows and a teddy bear -- all from the house across the street -- were strewn about the front yard.
Pete and Twyla Hayes surveyed the damage around their home on state Route 117 east of Rockford, where five huge oak trees were knocked down.
"He yelled at me to get in the basement, the trees are coming down," Twyla Hayes said. "We saw things flying through the air. We didn't spend any time waiting to go down."
Several minor injuries related to the storm were reported -- mostly from semitrailer drivers like the one on U.S. 127 north of Mercer, whose big rig carrying coiled steel toppled over in the high wind.
Two semis jackknifed on Interstate 75 in Auglaize County after winds pushed the vehicles off the roadway, intermittently closing both sides of the four-lane highway to traffic for four hours. One of those drivers, from Kentucky, also was injured.
Auglaize County Emergency Management Agency Director Troy Anderson was on a mission this morning to find out why the National Weather Service failed to issue a thunderstorm or tornado warning for Auglaize County where at least three tornadoes were spotted by residents.
"I witnessed one myself on Glynwood Road," he said.
A report of a funnel cloud in New Knoxville led emergency officials to activate sirens there, he said, but he wasn't sure this morning if sirens sounded in any other communities. Hoge Lumber Company on the outskirts of New Knoxville sustained roof and other structural damage to buildings on their lot.
Anderson said he put in several calls right away this morning to find out why the weather service left the county out of the emergency loop.
"This isn't the best time to find out there are glitches in the system," he said.
-- Daily Standard reporter Nancy Allen contributed to this story.