By Shelley Grieshop
sgrieshop@dailystandard.com
Mark Post sits in a folding chair in the front yard of his family's farmhouse, staring out into the field across the road.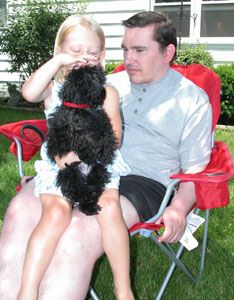 At 36, he could be married with children, attending Little League games and working a 9-to-5 job. But that life is beyond his reach.
"Mark contracted viral encephalitis when he was 6 years old," his mother, Ann, of rural Celina recalls.
She talks about the seizures and other medical problems that still plague him today, and the reality of discovering her son would have the mind of a first-grader the rest of his life.
She and her husband, Tom, love their son dearly, but as he grew into adulthood they realized -- like other families coping with adults with disabilities -- he needed more care than they could provide. Ann is 65, her husband is 74. Post lived in a group home for about a year, but he required more care. He also lived briefly at a Celina nursing home before moving to Heritage Manor Nursing Home in Minster nearly two years ago, where there is an Intensive Care Facilities for the Mentally Retarded (ICFMR) unit.
Heritage Manor currently is reviewing whether to close its ICFMR unit due to state funding cuts, and there reportedly are no other ICFMR beds available in Auglaize and Mercer counties. The units are scarce throughout the state, officials say.
Post was content living at Heritage Manor, until he suffered a grand mal seizure and was hospitalized June 3. The day of his dismissal from the hospital, nursing home officials told the family Post could not come back. They had no choice but to bring their son home to their Skeels Road farm.
The couple's adult daughter, Pam Grabau, knows her brother is too much for her parents to handle at their age.
"If he had a seizure or fell they would never be able to pick him up or control him. He weighs over 200 pounds," Grabau explains.
With the day-to-day obligations of their own families and jobs, Post's siblings also can't fulfill his needs. Until a recent change in medication, he exhibited frequent violent behavior including a refusal to use proper hygiene while living at the Minster nursing home, the family says.
Ann Post remains upset about the manner in which her son was turned away by the nursing home.
"She (the administrator) said he's not coming back," she says. "When I told her she couldn't do that, that we had to be properly informed and given a 30-day notice, she said, 'Not in this case.' "
Heritage Manor Nursing Home Administrator Jolynda Timmerman told The Daily Standard there is an exception in state regulations that allows her facility to evict a resident without benefit of a written notice and 30-day moving period "if someone is violent or at risk of hurting others."
But according to Sara Morman of the Ohio Department of Health, the agency that oversees nursing home regulations, there are no such exceptions.
"Behavior problems are the most frequent reason a resident is discharged from these facilities, but they still have to be given a 30-day notice. There are no exceptions," Morman says.
After the Posts notified an ombudsmen about the incident, the state agency began an investigation to determine whether inappropriate action was taken by the Minster nursing home, Morman confirmed.
Meanwhile, the Post family found a "wonderful place" that accepted their son in Toledo and brought him there on Thursday. It's a lot further from home than they'd like, but they didn't have many other choices and they believe his needs will be met there. A recent medication change has calmed him considerably, although he still suffers from seizures, his mother says.
"We just want him to be happy," she adds.
Families of mentally disabled adults typically struggle to find facilities that are equipped to take proper care of their loved ones, state MR/DD officials say. Now, because of a lack of state and federal funds, that job has become even harder.