By William Kincaid
wkincaid@dailystandard.com
ST. MARYS -- Sara Long spent the cold drizzling morning of Mother's Day 1989 waiting in her car in a clustered Sandusky parking lot.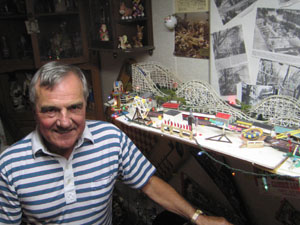 And where was her husband, Dennis?
Flying down the 205-foot hill of the Magnum XL-200 at 72 miles an hour, chasing a thrill on what also happened to be the roller coaster's opening day.
Dennis Long tells the story -- hoping it doesn't sound too self-abrasive -- with a grin, because his wife has perennially supported his coaster mania that has soared the couple across the world the last 17 years. The 66-year-old has been on 534 different coasters in the United States, Canada, Mexico, Germany, France, England and Belgium.
After retiring from St. Marys City Schools in 1992 as a teacher and varsity football coach, Long pursued a passion that originated in 1948 when he took his first ride on the Silver Streak at the former Indian Lake Playland in Russells Point. "It was a reward for being an altar boy," Long said about his first trip as an 8-year-old to the amusement park. "It was a very good coaster."
Long's globe-trotting search for the ultimate coaster began in the early 1990s. He met what would become a coaster-riding buddy and life-long friend while waiting in line for the Magnum on the same fateful day in 1989.
Chuck Sikaras, Chicago, was at the park also waiting in line by himself. His fiance, Martha, who normally rode with him, was undergoing surgery that day. Sikaras asked Long if he wanted to ride with him, and the two rode the same coaster four or five times, before exchanging contact information.
Long and his wife, who still doesn't ride coasters, then began traveling the country with the Sikarases, checking out each year's opening wooden and steel coasters at various amusement parks.
And what kind of ride truly satisfies the veteran coaster lover?
Wooden roller coasters such as Shivering Timbers at Michigan's Adventure; Blue Streak, named after the legendary Sandusky football team instructed by former Ohio State coach Earl Bruce at Cedar Point; and the Cyclone, a Coney Island treasure built in 1927.
"It's a classic," Long said about the Cyclone. "It's the best old coaster there is, and it's still a good coaster."
Before riding the Cyclone, Long said he always visits Nathan's Hotdog stand, which has been around longer than the ride itself.
Long said he loves to see the wood flying around him as he travels down hills and through tunnels and twists. But what really gets him going is the sensation of "flying out of your seat," which happens on wooden coasters such as the Racer at Paramount's Kings Island.
"There's nothing like flying down a hill and coming up out of your seat and floating," he said.
Wooden coasters, according to Long, tend to be more reliable compared to their steel companions. However, he noted that Son of the Beast, a wooden coaster built in 2000 at Kings Island, is the exception. It is known as a colossal failure and joke among enthusiasts, he says. The ride is still the fastest and longest wooden coaster in the world -- and also travels upside down in a loop -- but has been shut down many times because of mechanical problems. Long said the coaster had design flaws from the beginning and gives passengers a shaky experience that "rides like a cob."
But what Long really despises is excessive harness restraints often found on steel coasters with upside down loops, such as the Vortex at Kings Island. Such confinement, Long believes, somewhat negates the purpose of a coaster.
"It's ruined a lot of good rides," he said about what he calls the "horse collars."
He also doesn't like any stand-up coasters, which he thinks are simply a novelty or gimmick.
Long already has coasted into summer, when he and his wife recently traveled to Walt Disney World so he could ride the new $100 million Expedition Everest coaster, the largest and most expensive attraction at the park that is enclosed within a mountain.
The couple is planning -- like every year -- to make at least five more coaster trips, which will span from two days to two weeks. Long also is organizing a mini tour of eastern states with his high school buddy Marty Jenkins, who Long is quasi-mentoring in the ways of roller coaster enthusiasm. Long added the two used to double date in high school at Indian Lake Playland.
Long also enjoys spending the day riding coasters with his five children and grandchildren, who also have caught the roller coaster bug.