With tournament play looming on the horizon, Celina pushed its ACME record over the .500 mark with a 5-2 victory over Marion Local on Monday night at Eastview Park.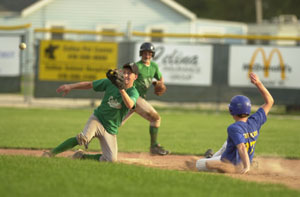 Celina is now 9-8 on the summer while Marion remains without a win at 0-9.
Both teams' offensive statistics were very similar, as both teams registered eight hits, and the hosts left eight runners on base while the visitors left seven stranded.
The difference was clutch hitting, as Celina took advantage of opportunities to twice put crooked numbers on the scoreboard.
After Marion went out in order to start the game, Celina quickly jumped out in front. John Bonvillian led off with a single and advanced to second on a wild pitch, and Nick Gray reached when he was plunked in the arm. After Brian Gagle reached on a fielder's choice, Joel Lange knocked in Bonvillian with a sacrifice fly. Jeremy Kerr followed with a squibber that eluded the first-baseman, and Jimmy Fishpaw then knocked in Gagle with a single to put the hosts up 2-0.
Meanwhile, Fishpaw was mowing through Marion from the mound, as he struck out six of the first nine batters he faced.
Still, it was just a two-run game in the fifth, but Celina added some insurance with a three-run inning. Lange got the big knock with a two-run double and later scored on Kerr's groundout.
After its early struggles, Marion got the bats going later in the game. Marc Otte led off the sixth with a double but was thrown out trying to stretch it into a triple. The base-running blunder proved to be costly, as Jake Heitkamp followed with a single. An error and a passed ball then put Heitkamp on third and he scored his team's first run on Kurt Homan's groundout.
The visitors then made things interesting in their last at-bat, as two seeing-eye singles and a Celina error scored one run. But with runners at first and second and the tying run at the plate, Fishpaw dug deep and retired the next three hitters to end the game.
"We've been playing up and down all year," said Celina coach Ron Fortkamp. "It doesn't matter who we play, every team gives us a good game. Jimmy (Fishpaw) pitched a real nice game and he got us out of a lot of tough spots. He's usually got pretty good location and a nice breaking ball, and he's a senior so he pitches smart."
Marion coach Hal Houseworth pointed to some familiar shortcomings as the reason for his team's ninth straight defeat.
"We've struggled all year driving in runs with runners in scoring position," said Houseworth. "We had a few opportunities tonight but we just didn't execute. It was nice to see the guys battle back and get a couple runs at the end but we couldn't pull through. It's always tough to battle back from a deficit, and they jumped right on us in the first inning."
Both teams return to action at home on Thursday, as Marion will host Coldwater while Celina entertains Fort Loramie.
Phone: (419)586-2371, Fax: (419)586-6271
All content copyright 2006
The Standard Printing Company
P.O. Box 140, Celina, OH 45822