By Gary R. Rasberry
grasberry@dailystandard.com
Celina fell back to .500 on Tuesday, losing to Fort Loramie 10-9 in a game where Celina trailed 7-1 at one time before being a hit away from possibly tying it up in the seventh inning.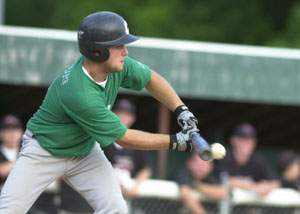 The Bulldogs now stand at 9-9 on the season as the Redskins improve to 4-13.
Things didn't start out well for the Bulldogs as Loramie plated three runs in the top of the first, then added four more in the second.
Celina starting pitcher Jeremy Kerr lasted just 11/3 innings, walking four and allowing six runs -- two earned -- on just three hits as the Bulldogs made two of their three errors in the opening frame.
After the second, Celina was able to slow down Loramie, holding the Redskins to just three more runs in the game. Derek Gagle scattered five hits over the last 52/3 innings to help allow Celina a chance at formulating a rally. The score was 8-3 going into the fourth when Celina had a big inning. Matt Paulus led off with a single and with one out, Dustin Abrahamson doubled to put runners on second and third. Paulus then came in on a wild pitch by Redskin pitcher Andy Long.
John Bonvillian, back to playing after getting hit in the face earlier this season, singled in Abrahamson to make it 8-6 and Nick Gray followed with a double to bring Bonvillian home cutting the deficit to one.
"We make it interesting every game," said Celina coach Ron Fortkamp. "I've had teams that played up and played down, but never a team that played up and down between innings. It's just been one of those years."
The Redskins got two runs in the sixth to make it 10-7, but Celina added a run without benefit of a hit. Joel Lange came home with the bases loaded when a Paulus grounder to third was misplayed.
After Gagle pitched a perfect seventh, Celina tried for one last rally. Bonvillian walked to start the inning and with one out Gagle grounded to second, but the throw to first was in the dirt, sending Bonvillian to third. Lange then lofted a deep fly to right for the second out, allowing Bonvillian to score on the sacrifice fly, but Ludlow wrapped up the game for Fort Loramie by getting Kerr to ground to short for an out to end the game.
"I think we can play baseball with anybody," said Fortkamp, "And we can be beat by anybody. Not taking anything away from Fort Loramie, they came out and hit the ball and did what they had to do. Our consistency just isn't with us this year.
"I don't know how many we left on base (11, including having the bases loaded at the end of the fifth and sixth innings). You've got to hit with the bases loaded. Next time, we'll do it."
Abrahamson and Gray each went 2-for-3 with a double while Lange had just one hit, but finished with three runs batted in.
Celina will wrap up county circuit play over the next two days. The Bulldogs travel to Coldwater tonight to play the Cavaliers, then will play Parkway at Eastview on Thursday in a rescheduled game.
Phone: (419)586-2371, Fax: (419)586-6271
All content copyright 2006
The Standard Printing Company
P.O. Box 140, Celina, OH 45822