By Gary R. Rasberry
grasberry@dailystandard.com
With the ACME tournament starting on Saturday, Celina and Parkway used Thursday's rescheduled game as a tuneup, getting a lot of different pitchers and positions players time on the field.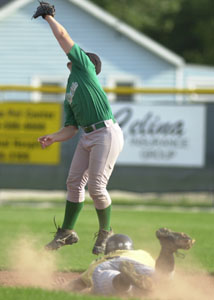 This scenario brought out the wild, but exciting action.
Celina jumped out 7-0 on the 17-2 Panthers through 31/2 innings, then had to hold off a late rally to beat Parkway 7-6 at Eastview Park. The game was a designated Parkway home game, but was played in Celina due to storm damage to Don Black Field in Rockford.
Celina enters Saturday's county sectional at 10-9 as the Panthers drop their second straight game to go to 17-3.
"It's never dull," said Celina coach Ron Fortkamp. "You know what? It's fun to play a quality team. Parkway played tonight to get ready for Saturday. It was just fun. They're a real quality team." Both sides went with multiple pitchers in the game, which seemed to help Celina out at the plate. Parkway starter Shaun Coffman walked four batters in the first inning, plating a Celina run, while also striking out three in the first inning.
However, it wasn't until the third when Celina broke out as the Bulldogs plated four runs off reliever Austin Art in the inning. The big hit came when Jeremy Kerr singled, scoring Derek Gagle and Joel Lange. Kerr came in later on a balk by Art and Jimmy Fishpaw scored on a wild pitch to make it 5-0 in favor of Celina.
Ethan Hayes gave up the other two Celina runs in the fourth, both thanks to errors by Parkway fielders. John Bonvillian scored on a Gagle sacrifice fly and Nick Gray came in after stealing second when the throw by Jensen Painter ended up in leftfield.
After the fourth, Hayes and Trevor Krogman kept the Bulldogs scoreless.
Celina's pitching was solid for the most part. Kyle Pfeffenberger started and threw two innings of one-walk baseball before giving way to Gagle, who allowed a walk and a hit but kept the Panthers scoreless.
Andy Sell, came on in the fourth and allowed two runs, one earned, in three innings of work, earning the win in the contest.
In the bottom of the seventh, though, things got extremely wild. Fishpaw came on to close things out, but gave up five straight base hits. Fortkamp called on Pfeffenberger to see if he could get out of the jam.
Pfeffenberger faced Painter first, getting him to look at strike three for the first out. Tyler Thompson came up next and swung at strike three, but reached base safely.
With the tying and winning runs on base for Parkway, Krogman came on and bunted in a squeeze attempt, but Pfeffenberger fielded the ball and threw to Kyle Trafzer at the plate, who laid the tag on Snyder for the second out. Andrew Dellinger ended the game with a grounder to Keith Neighbors at third. Neighbors touched the bag to force out Thompson and end the game.
"It's nice to be in a game with a quality team and not totally give it away," said Fortkamp. "We tried there a little bit, but we did okay."
"I was telling the guys about the light switch," said Parkway coach Mike Moorman. "We came out the first six innings and didn't play like we do. Seemed like we didn't get out of bed until the seventh when we finally woke up and got something going.
"I'm not happy with the way we played tonight, but I am happy with the way we battled back in the seventh. Back-to-back losses (Parkway lost to Defiance on Tuesday), we'll see how these guys deal with it. It's not the best time for the losses to come, but it'll show what kind of team we are."