By Laura Walker
lwalker@dailystandard.com
It's more than sparks and competition. It's a family affair with a teeter totter for steam engines, tree climbing for whoever wants to and live music.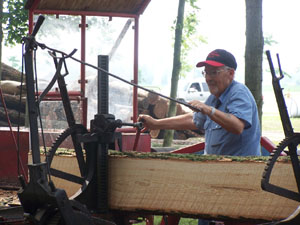 The Darke County Steam Threshers will host its 50th annual reunion Thursday through Sunday at the corner of Reed Road and U.S. 127, Darke County.
Three generations and more will be on hand to present threshing, sawing, testing, completions and just plain showing off their steam power for the public.
Tickets are $5 for anyone 16 and over. Those 15 and under get in free. On Thursday senior citizens can enter for $3.
The event brings people from as far as Canada and Florida said trustee Doug Obert, Columbus. The Kramer family comes just from Eaton, but they drive their steam engine all the way to the reunion grounds. Dubbed the "road locomotive" due to their train sound and rubber tires, the Kramer engine can be heard at least 10 minutes before they actually arrive at the festival.
Peyton Kramer, 4 years old, completed three generations riding the steam engine to the grounds this Independence Day. His grandfather, Joe, and father, Jason, both worked long hours on the engine to ready it for the Eaton bicentennial parade and the reunion. The failure of a seal canceled their entry in the parade, but everything was running up to snuff on the trip to the reunion.
They say it took about two hours, 500 pounds of coal and 400 gallons of water for the trip. Joe and Jason Kramer explained it takes two operators to run the steam engine. The fireman is responsible for fueling the fire box and maintaining the water level. The engineer is responsible for controlling the speed, informing the fireman of up or down hill and most importantly keeping the engine on the road.
Their engine is composed of a boiler built before 1920 and parts from here and there, which combine for a weigh-in around 7,000 pounds. This is light, because of the absence steel wheels, compared to six to 12 tons for the average engine.
Jason Kramer's great-grandfather used a steam engine for threshing on his farm. He recorded completing 40 acres in a day. Not much compared to the hundreds a modern combine can accomplish. Family friend Clint Manlove commented there's a whole lot involved in preparing those 40 acres for one day's threshing. The hay was already cut, shocked and ready to be threshed, he said. The modern combine does this all in one pass.
Kramers' steam engine and and 26 others will be active throughout the reunion.
For folks not interested in steam engines, there is "gasoline alley" which includes more than 200 antique tractors. Some of which will participate in a pull at 4 p.m. Saturday.
Pullers will include 83-year old Lloyd Christian from Ansonia. His wife says he doesn't get out as often as he used to, but he did place first in Maria Stein and third at Fort Recovery this year. He started pulling in 1957 in a barn. He said he drove a garden tractor and it was a dead weight pull. Tractor pulling has changed more than a little aver the years as Christian and his 1949 Massey-Harris hope to add a trophy to his collection of 130 or more awards on Saturday.
At noon Saturday everyone is welcome to bring their skid steer to compete in the skid steer rodeo. This event involves picking up, moving and setting down various items using a skid loader, according to trustees.
Phone: (419)586-2371, Fax: (419)586-6271
All content copyright 2006
The Standard Printing Company
P.O. Box 140, Celina, OH 45822