By Gary R. Rasberry
grasberry@dailystandard.com
COLDWATER -- The Coldwater Cavaliers will join St. Henry A at the ACME district tournament on Sunday after eliminating Parkway 3-2 in the nightcap of Wednesday's elimination contests at the Mercer County sectional at Veterans Field in Coldwater.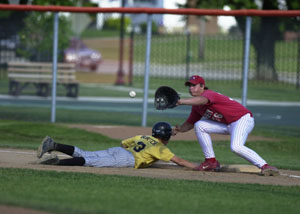 With the win, Coldwater (17-12) faces St. Henry A tonight at 6 p.m. in the Mercer County sectional championship with both teams having already qualified for the district tourney. Should Coldwater win the first game, a second game will be played immediately following the first game for seeding purposes at Minster's district tourney.
Parkway needed two wins on Wednesday if it wanted to advance to the district tournament. In the opener, the Panthers eliminated St. Henry B 15-3 in five innings to move on to face Coldwater in the losers' bracket final, where Parkway ended its season at 20-5.

Coldwater 3, Parkway 2 The second meeting of the tournament between the teams was the matchup that fans anticipated.
While many expected Parkway to send Trevor Krogman to the mound in the second game, it was Jensen Painter, winner of the Panthers' tournament opener, who got the nod. Coldwater sent its opening-game winner Bill Geeslin to the mound.
Coldwater got the early lead when Ryan Geier scored on a Riley Muhlenkamp groundout, and it appeared that Geeslin had the right stuff to make it stand up holding Parkway hitless for 41/3 innings.
As they did when Sam Slavik no-hit them on Sunday, Parkway found a way to score without hits. In the third, Joel Henkle walked, but was forced out at second on Levon Archer's grounder. Derik Snyder followed with a walk. Jeremy Heiser grounded hard to second, but Tyler James could not get the handle on the ball, allowing the speedy Archer to tie the game. Painter followed with a sacrifice fly allowing Snyder to score to make it 2-1.
Coldwater came back, using a gamble to take the lead. With one out, Geier reached on an infield single and stole second. Cory Klenke followed with a single to score Geier to tie the game.
After a steal, Painter tried to pick off Klenke at second, but the ball deflected off a leg of a Parkway defender and went to mid-centerfield. Klenke came to third and got the go-ahead wave by coach Romie Schwieterman. Klenke, with both his helmet and cap flying into the air as the throw came in, slid safely just before catcher Jordan Thompson got the ball to make it 3-2.
"I sent him," said Schwieterman. "Once you start running with the ball in your hands (as did the player who retrieved the errant ball), you have to stop and throw. Cory does run wild, that's what you want. When you're up one, tied or close, you want to do that."
After that, Painter shut down Coldwater. Painter scattered nine hits in the game, but only walked one batter while striking out six.
"He threw a helluva game," said Parkway coach Mike Moorman.
"He was throwing well," said Schwieterman of Painter. "Even later (in the game), he was dropping down at times, mixing (pitches) up well. It seemed like we stranded about 450 (seven, actually). To his credit, they were all in scoring position. ... We just couldn't get that hit."
Geeslin kept the Panthers hitless until the fifth when Archer doubled with one out. Geeslin struck out seven and walked three in the game.
"I thought he was going to hyperventilate in the first inning," said Schwieterman with a grin. "He did well. Sometimes, he tries to overthrow and he'll settle down a bit. We told him that it could three, maybe four innings (of work), depending how he did."
In the sixth, Painter singled to start the inning. Schwieterman did not waste any time, calling on Slavik to try and close things. Painter moved to second on pinch-hitter Eddie Burtch's bunt before Slavik struck out Kyle Hamrick. Krogman drew a walk, but Slavik ended the sixth by striking out Michael Baldauf.
In the seventh, the Slavik struck out the side for the save.
"We knew Sam could go only two innings," said Schwieterman. "When he came in after getting out of trouble in the sixth, he thought I was coming up to ask him if he wanted to go the seventh. He said 'I'm in!' I wasn't going to ask him. I was going to tell him. You go to Sam for that leadership and I sure wouldn't want to hit off that guy."
"They never quit," said Moorman of his charges. "Romie said it earlier, this is a big rivalry game. They got the win with the throw into center, but that's baseball. That throw could have gone either way. You just never know.
"Coldwater's a helluva team. I wish them the best."
Schwieterman had praise for Parkway, a team that beat Coldwater three times during the regular season before the Cavaliers won both sectional meetings.
"Mike and Arch (assistant coach John Archer) did a helluva job," said Schwieterman. "I feel bad for those guys because they came so close. Those guys worked hard as a team."
Parkway 15, St. Henry B 3 (5 innings)
The Panthers wasted no time in getting the lead, scoring four times in the top of the first with Painter bringing in two runs on a double. Parkway scored six more in the third and ended the game with five in the top of the fifth.
St. Henry, running out of arms after playing through the losers bracket for most of the tournament, went with four pitchers to get through the game.
Parkway, though, went with Snyder for the duration. Snyder scattered five hits and four walks in five innings to get the win.
Heiser paced Parkway in the first game with a 2-for-3 performance with three runs scored and two RBI. Krogman also had two hits while Cody Brandt had a pinch-hit single that scored two in the fifth inning.
Caleb Stammen had two of the five St. Henry hits, scoring once and driving in a run.