By Betty Lawrence
blawrence@dailystandard.com
In a surprise move, Coldwater's fire department will relocate to the village's industrial park rather than undergo a proposed 2,000-square-foot expansion and renovation at the present firehouse on West Main Street.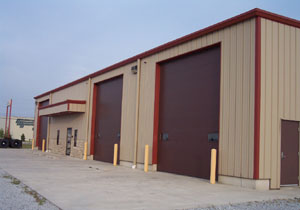 The larger quarters and easy access can be done for the same cost as the renovation, councilors learned.
Village councilors approved an agreement Monday night between the village and D&E Enterprise, LLC (Giere's Truck & Trailer Inc.) to purchase the $300,000 two-acre parcel and building to house the department.
The 8,000-square-foot metal building is at the corner of state Route 118 (North Second Street) and Katie Lee Road. It is owned by Ed and Deb Giere, of Montezuma, who plan to downsize their business.
In 2004, voters passed a five-year, 2-mil levy that generates $175,000-$200,000 annually for the firehouse expansion and purchase of a new fire truck. The truck will still be purchased at a later date. The village will make a $100,000 payment up front, another $100,000 after the first year and the final payment after occupancy, which Village Manager-engineer Eric Thomas estimates to be one to two years out.
"Our lowest bid was $300,000 for the expansion project and for that amount of money, we can purchase the Giere building and property. We felt, money for money, this was a win/win situation," Thomas said.
The new facility is double the size of the present firehouse, plus there is an additional 1,000 feet of storage space in the building. It is located on a main artery at the outskirts of the village and the fire trucks will be able to enter and leave the building easily.
The old firehouse will be used to store village vehicles.
Members of the fire department were present at council's safety committee meeting in June and discussed the move. They found it favorable.
"Basically, we looked at the pricing and felt it was a better spending of the money and more feasible," Assistant Fire Chief Steve Sutter said this morning. "For what it was going to cost to add on to the old building, we are able to have a much bigger building and space if we ever need to expand in the future."
Only a few minor changes will be necessary before the department can move, including installation of a water line and relocation of the tower.
The new property will be owned by the village and Butler Township on a pro rata basis (one-third Butler Township and two-thirds Coldwater).
Phone: (419)586-2371, Fax: (419)586-6271
All content copyright 2006
The Standard Printing Company
P.O. Box 140, Celina, OH 45822