By Laura Walker
lwalker@dailystandard.com
U.S. 127 may be bumper to bumper traffic Aug. 3-6, due to the World's Longest Yard Sale.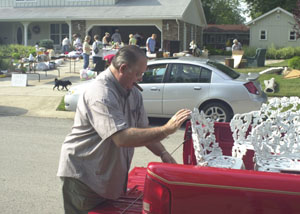 Houses and businesses along U.S. 127 are invited to participate, says Mike Niekamp. For the 110 miles of Ohio Yard Sale to be a success he says individuals need to set up sales along the route and sale goers need to be convinced to cross the Ohio River from the highly successful southern U.S. 127 Yard Sale.
The U.S. 127 Yard Sale was started 19 years ago, according to its official web site. The idea was to bring travelers from the busy Interstate System to the less traveled highways of Tennessee and Kentucky. The official sale runs from the Ohio River south to Gadsen, Ala. Next year the Ohio U.S. 127 Yard Sale plans to officially join the established southern sale for over 600 miles of yard sale.
Niekamp, local chambers of commerce and tourism bureaus have joined together to get the Ohio U.S. 127 Yard Sale off and running. Niekamp says in the past yard sale goers have stopped at Niekamp's Farm and Flea Market, rural Celina, on their way to and from the southern sale. He hopes farmers and families along U.S. 127 will clean out their attics and invite others to use their yard for a sale. If this doesn't sound good, he hopes landowners will allow cars to park in their yards.
Traffic may be slow, if the Ohio sale follows the footsteps of the southern sale. According to southern sale goer Dick Mosier, "Traffic is no big deal... It moves slow... you just take your time." In 2003, his group only traveled 20 miles the first morning! The next year they chose to start in the north and head south just covering the east side of the road. They returned completing the west side of the road the next day. "Little towns we came through were booming," he said, "A place like North Star there could be a lot of things setting out."
He suggests going to Tennessee over northern Kentucky; but this year he plans to start in Celina and head south to Preble County. He adds he will also be going on the Lincoln Highway Buy-Way Yard Sale, Aug. 10-12.
The Lincoln Highway Buy-Way and the Ohio U.S. 127 Yard Sales make Van Wert a hot bed of bargains the first two weekends of August. In its second year the Buy-Way Sale includes collectible commemorative Buy-Way Yard Sale envelopes with a special cancellation from the post office. These will be available at Van Wert Courthouse and 39 post offices allow the sale route. The first year of the Buy-Way Sale brought over 80 group events and over 350 individual yard sales from Indiana to East Liverpool, according to the sale brochure.
Larry Lee, Van Wert Area CVB, says people who like yard sales usually share information about where to go and where they found the best deals.
Mosier says one of his best finds was a Calloway golf bag for $20. His friend, an antique dealer found some very rare bottles cheap and was able to make a nice profit with them. Mosier adds expect to see the typical yard sale stuff, tools, clothing, you name it.
Out of the ordinary yard sale items may be found in Celina, as all the local merchants will be holding special sales, says Pam Buschur, Celina Chamber of Commerce. As of press time she expects but has not confirmed sale participation with SOURCES, local churches and the Mercer County Fairgrounds.
For more information on the Aug. 3-6 Ohio U.S. 127 Yard Sale check related story on sale locations or visit www.127saleohio.com.
Phone: (419)586-2371, Fax: (419)586-6271
All content copyright 2006
The Standard Printing Company
P.O. Box 140, Celina, OH 45822