By Margie Wuebker
mwuebker@dailystandard.com
OSGOOD -- Twelve fire departments from four counties responded to a barn fire Wednesday afternoon at the home of John Seger, 14854 Mendenhall Road.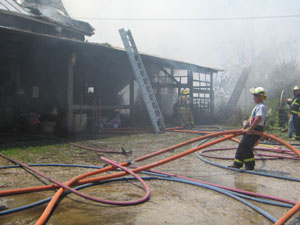 Ironically, Seger was among the first firefighters at the scene. He and five fellow Osgood Fire Department members were at the station for a meeting when the call came at 12:49 p.m.
A neighbor reportedly saw flames shooting from the west side of the wood building and called 911.
"The whole west end was fully engulfed when we pulled in," Osgood Fire Chief Frank Miller told The Daily Standard. "Smoke and flames were visible several miles away."
Mutual aid calls quickly brought Chickasaw, North Star and Burkettsville firefighters with sirens blaring. They were joined by departments from Versailles, Russia, Rossburg, Minster, St. Henry, Fort Loramie, North Star and Montezuma. Firefighters prevented flames from broaching a dividing wall inside the barn. However, the west and northwest sides of the metal-roofed building sustained heavy damage.
Tankers ferried needed water from a pond owned by Lois Luebke Steinbrunner and discharged their loads into portable drop tanks before making a return trip of several miles.
Several horses were led from the barn and tethered a safe distance away. No other animals were inside at the time, but a workshop containing numerous tools was destroyed.
Once the blaze was under control, firefighters began the arduous task of removing hundreds of hay bales from the interior. Much of the work was accomplished by hand with the pile of smoking bales quickly grew in a nearby lot.
With temperatures in the 90s and high humidity, personnel had to be rotated every 15 minutes to prevent heat exhaustion.
"Turnout gear is hot and the heat and humidity only made the situation worse," Miller said. "We had Osgood rescue out here but no one required treatment."
Weather conditions and the amount of work involved in removing bales contributed to the need for 70-plus firefighters. The fire chief also noted the number of vehicles responding from Darke, Mercer, Shelby and Auglaize counties required a definite traffic plan. Mendenhall Road quickly became a parking lot for red, white and yellow in all shapes and sizes.
No damage estimate has been set and the cause of the blaze remains under investigation.
Phone: (419)586-2371, Fax: (419)586-6271
All content copyright 2006
The Standard Printing Company
P.O. Box 140, Celina, OH 45822