By Gary R. Rasberry
grasberry@dailystandard.com
Archie Griffin is still on the go.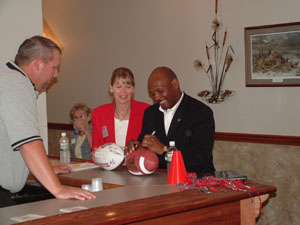 This time, instead of eluding defenders on a football field, it's to help promote his alma mater.
The Ohio State University All-American, and the only man to win two Heisman Trophies, was in Celina on Wednesday to speak to a group of area coaches and OSU alumni, among others, at Romer's Westlake in Celina.
Griffin, the president of the Ohio State Alumni Association, made the trip as part of a Coaches' First Aid and First Responder's training session sponsored by Mercer Health and Community Sports Medicine Center. Griffin talked about how he maintains his physical fitness after his playing career for Ohio State and in the National Football League.
The session is just one of many trips that Griffin makes all over the nation to promote the university, both the academic and the athletic sides of being a Buckeye. "I think it's important for grads of Ohio State, of any school, to support the alma mater," said Griffin. "One of the things I am most proud of is that I have a degree (in Industrial Relations) from Ohio State University. Certainly, those Heisman Trophies are very important, but my intention was to get a college education. That happened at The Ohio State University. I can say that degree has helped me tremendously through my life. I'm certainly in the position I'm in today because of the degree."
Griffin also worked as an assistant athletic director for years at the school before stepping into his role in helping the alumni.
"The Alumni Association, of which I am president, their job is to keep alums connected to the university. We do that in several different ways. We do it through athletic events and things of that sort and we also do it through programs like we have here tonight. We'll have people from the OSU Medical Center and OSU Sports Medicine come in and talk with alums, friends and coaches about the importance of staying fit. These things are so important. It's a way for Ohio State to stay connected."
Griffin travels all over to promote closeness between the school and the alumni. The time away from his home may be long, but for Griffin, it's worth it.
"I've grown to love this job. It's a wonderful job," said Griffin. "I can't think of a better job to have at Ohio State University than to be president of the Alumni Association. I say that because we have so many great alums around the word. We have 400,000 alumni around the world. Our membership is high at about 130,000. Our goal is to make it bigger than it is now. We want to be the biggest as well as the best alumni association in the world."
The rivalry between the Big Ten schools even shows in alumni groups.
"We'll need about 160,000 because right now Penn State is ahead of us," said Griffin. "We've got to figure out how to get more alums to join the association and to reach that goal. I say that because the perception is that we're the biggest. I always thought that before I got the job. In reality we were third and now we're second."
Griffin's drive to help his school comes from one of the most important persons to influence his life.
"Woody used to always talk about paying it forward," said Griffin, referring to legendary football coach Woody Hayes. "The gist of that was you could never help people who help you. You never could pay them back, but you could always help somebody else. Alums at Ohio State, hopefully, know all about that because at Ohio State, we've been able to build outstanding facilities in athletics and other areas of the university. We're building like crazy.
"There's two people I think about most everyday. Both are past away. That's my dad and coach Woody Hayes. My dad because he worked three jobs to support his family and coach Hayes for what he was, what he stood for. He was not only a great coach, but a great person."
Griffin's star power on the football field is a perfect calling card to help the university, allowing those who know just about the athletics to get interested in other things that Ohio State has to offer.
"We're very proud of the James Cancer Center and certainly OSU Medical Center has grown tremendously," said Griffin. "Certainly, it's ranked as one of the top in the world. Many of the programs at Ohio State are like that. When it comes to sports, people like to have something to rally around. Sports does that for a university, for alumni, it gives them something to rally behind. You very rarely see 105,000 come together on an afternoon to watch one of our great surgeons do surgery, but when you play the game of football like we've played it traditionally at Ohio State, you can make that happen. It's a wonderful way for other areas of the university to bring in the students, past and present, and share the great things they're doing in their particular schools.
"It's a great rallying point for the whole university. That's what sports are really about."