By Laura Walker
lwalker@dailystandard.com
Popcorn wasn't the only thing popping at the Mercer County Banner Fair Friday afternoon.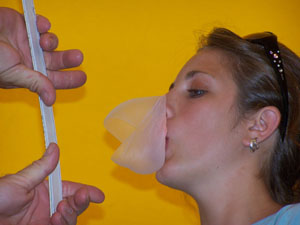 One of the highlights of kids day at the fair was the bubble gum blowing contest, sponsored by the Senior Fair Board. With more than 50 contestants, the contest is an annual event for many.
The Albers family from St. Henry are reigning champions, often competing against each other. They claim not to chew bubble gum as a hobby, but they offer plenty of tips.
The gum must be the right consistency and, of course, it must taste good. According to Junior Fair Queen Mary Will, it is just right when it stops juicing.
Rachel Garman adds, you don't want too much sugar. At this point, the Albers say, flatten it out and make it smooth, like a pie or sugar cookie dough, but inside your mouth. Even it up so there aren't any lumps. Center it around your teeth and blow, they say.
Make sure to blow slowly, if you want a big one, the Albers say. Will and Garman add if you don't want the bubble to pop on your face, blow fast. The Albers do not seem to mind, one even pulled bubble gum off of her glasses during the competition.
The competition allowed two pieces of bubble gum, the perfect number for bubbles, the Albers say. Competition was tight all the way through, with each competitor receiving a 50-cent piece after their three attempts.
Winners of the bubble gum blowing contest were: under 8 years of age, 41Ú4 inches Nick Garwood; 9 to 12 years of age, five inches, Triston Peck and Ciera Gray; 13 to 16 years of age, 51Ú4 inches, Kari Koester; 17 years and over, 51Ú2 inches, Renee Albers and Julie Albers.
The fair continues today and Sunday with rides, food, and animal shows. Tonight's entertainment is harness racing and the band Redeemed. Sunday will be the local demolition derby and Roscoe and His Little Green Men. The fair concludes Monday night with the livestock auction.
Phone: (419)586-2371, Fax: (419)586-6271
All content copyright 2006
The Standard Printing Company
P.O. Box 140, Celina, OH 45822