By Ryan Hines
rhines@dailystandard.com
With just six seconds remaining, it looked like Jerry Harris was going to make his return to Celina football with a victory over Lima Senior.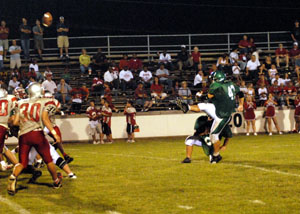 Spartans quarterback Matthew Beggin had other ideas finding a wide open Justin Evans in the end zone for a game-winning touchdown as the clock hit zero lifting Lima Senior over Celina, 26-24.
Celina held as much as an 18-point lead in the third quarter, but Lima Senior rallied by scoring 20 unanswered points in the fourth quarter to come away with the win.
"Our offense could have won the game tonight and our defense could have won the game for us tonight. We just didn't come through in those situations," said Harris. "If we would have won the game, I would have said that we stole it. There's no worse way to lose a ball game than what happened tonight by losing on the last play of the game. I would rather get beat 20-0 or 30-0."
"The one positive thing that we've seen from these guys all preseason long is that they have a great work ethic and they never give up," said Lima Senior head coach coach Rick Vaughn. "We're glad to come out of this one with a victory." Beggin, who also orchestrated a game-winning drive covering 86 yards in the final minutes of play last year over the Bulldogs, drove the Spartans to victory drawing praise from Harris.
"That quarterback (Beggin) put that team on his shoulders and told them that he was going to carry them," said Harris. "He did the same thing to Celina last year, but this year he did it much better. If he wasn't killing us with his arm, he was killing us with his feet. He made all the plays that he had to to make this a win for them."
Lima Senior marched 95 yards on the final drive in 2:49 with Beggin's precise passing picking up first down after first down. Beggin completed 9-of-12 passes on the final drive for 86 yards including a perfect strike to Evans for the game-winner from seven yards out.
"We had trips out to the right and then we had the two outside guys run posts with the inside receiver of the trips running a flag," explained Beggin, who was 23-of-35 passing in the game for 241 yards. "He was wide open."
"That might have been my best call ever," joked Vaughn. "I knew that they would be in some kind of man, so I knew that we could pick them."
Evans was Beggin's favorite target connecting 11 times for 116 yards. Ricardo Duncan also pulled in eight balls for 109 yards.
The second straight heart-breaking loss to Lima Senior left Celina fans thinking what could have been.
A run of 24 straight points in the middle two quarters after facing a 6-0 deficit put the Bulldogs on top 24-6 after three quarters of action.
However, Lima Senior dominated play in the fourth quarter on both sides of the ball.
While Beggin was picking the Celina defense apart, the Spartans defense began to tighten allowing the Bulldogs just 14 total yards and two first downs in the final stanza.
"Good teams get first downs when they have to and good teams stop teams from getting first downs when they have to. We did neither of those consistently," said Harris.
Ryan Nathan, a Lima Central Catholic transfer, led Lima Senior's ground attack with 135 yards on 18 carries with three touchdowns.
Lima Senior won despite committing 13 penalties for 132 yards, including four personal foul infractions.
The last-second loss overshadowed a promising debut for sophomore quarterback Derek Gagle. Gagle, who also ran for 24 yards and a touchdown, was 7-of-14 passing for 111 yards including a beautiful 68-yard scoring strike to Brandon Ley.
Scott Felver led Celina's ground attack with 69 yards on just 13 totes with one touchdown scamper.
"We're better than we were a week ago, we've made strides forward. We played as well as I had hoped they would play tonight," pointed out Harris. "These kids are disappointed, no question about it, but now we have to suck it up and come back strong next week and get better."
Celina is back in action again on Friday on the road at rival St. Marys for the Battle of Grand Lake.

Phone: (419)586-2371, Fax: (419)586-6271
All content copyright 2006
The Standard Printing Company
P.O. Box 140, Celina, OH 45822