By Shelley Grieshop
sgrieshop@dailystandard.com
A pair of weak tornadoes were officially confirmed as causing damage Monday evening to 15 homes and at least one business in New Knoxville and a home and crops near St. Henry.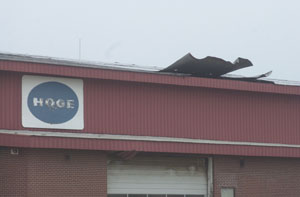 The National Weather Service (NWS) said F0 tornadoes, the weakest on the scale used to rate destructiveness, spawned off a slow-moving storm and touched down in both regions but caused no injuries. Winds associated with an F0 tornado reach speeds of 40 to 72 mph, according to NWS officials who surveyed both areas on Tuesday afternoon.
No dollar amounts have been set on damages in either county, according to area Emergency Management Agency (EMA) directors.
Mercer County EMA Director Wanda Dicke said a cornfield two to three miles southwest of St. Henry along Fort Recovery-Minster Road looked like it was plowed down by rolling equipment. Corn cobs from the field were ripped from husks and landed on the nearby roof of Fred and Irene Rose's home, which sustained moderate damage.
"That corn is still green so it had to be a very powerful wind to remove it from the husks," said Dicke. Irene Rose told Dicke the corn found on their roof was so mutilated, she referred to it as "creamed corn." Rose also noted the sound of the wind led the couple to believe the entire roof was going to blow away.
The Mercer County tornado made its way through two corn fields and a bean field before quickly lifting from the ground just after 9:20 p.m., officials said. The path was estimated at 60 yards wide and3Ú4 to one mile long, the NWS reported.
In Auglaize County, an F0 tornado touched down about 10 p.m. near the intersection of state Route 29 and Hoge Street on the southern edge of New Knoxville, lifting small buildings off their foundation, knocking down trees and ripping away siding and shingles from more than a dozen homes.
Buildings on the lot of Hoge Lumber Co. sustained minor damages, also.
The NWS did not issue a tornado warning for Auglaize County as they did for Mercer County. Auglaize County EMA Director Troy Anderson and other Auglaize County officials are looking into the reason why the county continues to be overlooked by the NWS when threatening weather is imminent.
Anderson said he did not activate sirens in any of the communities but instead issued a weather statement to fire and police departments in New Bremen, Minster and New Knoxville, about 10 minutes before the storm approached. Anderson said he based his actions on the heavy rain and wind, tornadic conditions and the warning issued 30 minutes earlier in Mercer County.
Anderson said the NWS gave Auglaize County an "all clear" from the storm at 9:50 p.m. -- 10 minutes before the tornado touched down in New Knoxville, he said.
The small tornado was on the ground for about3Ú4 of a mile and was 300 yards wide at its greatest width, the NWS said. Anderson said the brunt of the damage was noted to properties near the Hoge Street intersection where the tornado initially touched down.
"Some homes had damage from flying debris, others lost siding and shingles," he said.
Phone: (419)586-2371, Fax: (419)586-6271
All content copyright 2006
The Standard Printing Company
P.O. Box 140, Celina, OH 45822