The Celina Bulldogs bounced back from their disappointing season opener by beating the St. Marys Roughriders on Thursday night in the volleyball edition of the Battle of Grand Lake on Thursday at the Intermediate School.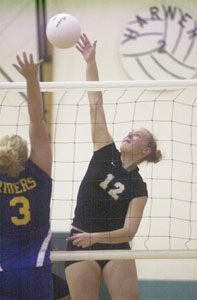 The Bulldogs were never seriously challenged, as they blew out to large early leads in all three games, winning 25-12, 25-15, and 25-13.
Celina improves to 1-1 (1-0 Western Buckeye League) on the young season while St. Marys falls to 0-2 (0-1 WBL).
The hosts vaulted out to a quick 4-0 lead in the first game, and it proved to be a perfect indicator of how things would go on the night. A little later the Bulldogs held a 7-3 advantage when Julie Klosterman stepped to the service line and did some major damage. The freshman served up six straight service points -- four on St. Marys hitting errors -- to give the hosts a 10-point advantage that the visitors would never dent.
Game two saw the 'Riders get more active on the net, as they were successful in challenging the Bulldog attack by at least getting a hand on some kill attempts. The result was a more competitive game, as the Bulldogs held the advantage throughout but had a hard time building a sizable lead. The 'Riders made their last stab at getting into the game when they took the serve after a stirring rally that ended in a Bulldog hitting error. Two errors by the hosts trimmed their lead to five points making the score 19-14, but a kill by Cenzie Yoder gave the Bulldogs the serve back and they quickly registered five of the next six points to take the win in the game.
Celina put together two quick scoring spurts to bring game three to a quick end. With the hosts down 3-2, Liz Homan asserted herself in a big way, as the junior smashed three kills in a span of four serves to help put her team up 7-3. A little while later it was Cenzie Yoder's turn to shine, as the freshman knocked three kills during an eight-point Celina run to make the score 19-6 and effectively put the game on ice.
With just two seniors on the roster, St. Marys coach Tricia Naseman saw the more experienced and athletic Bulldogs have their way with her squad.
"The first game was unbelievable, because I don't know if we got any touches on any blocks, but we picked things up a little bit from there and our blocking got better," said Naseman. "I know that they're listening and trying to do some things, so I'm happy about that."
Though the Bulldogs aren't yet in midseason form, coach De De Stoner was pleased to get her first win at Celina.
"I thought we played well and really kept it together all night," said Stoner. "A couple times we got a little lazy but not too often, and for the most part they stayed intense. We've got enough talent that when we come to play we can do great, but when we don't, things don't look so good. Every team has that sometimes, so we just have to get them so they're playing well all the time."
Both teams return to action Saturday as both will host invitationals. St. Marys will take on two perennial powers in Parkway and Old Fort, while Celina faces Toledo Whitmer and then either Chaminade-Julienne or Bowling Green.
Phone: (419)586-2371, Fax: (419)586-6271
All content copyright 2006
The Standard Printing Company
P.O. Box 140, Celina, OH 45822