By Gary R. Rasberry
grasberry@dailystandard.com
It was appropriate that two Mercer County teams would battle it out for the championship of the Mercer Health Volleyball Invitational in Celina on Saturday.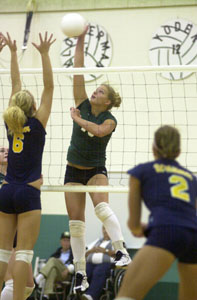 In the end, Marion Local captured the championship by beating the host Bulldogs 25-19 and 25-15, winning the tournament over the Bulldogs for a second straight year.
The win for the Flyers, putting them at 5-0 on the season, came after losing the opening game of their semifinal against Sycamore 26-24 and trailing the Aviators 7-1 in the second game before coming back to win 25-23 to set up a third game, which the Flyers won handily 25-14.
"I think we were down 8-1 and then down 18-14," said Marion coach Amy Steininger. "I told the girls after we won that it looked pretty bleak. We did not play well. It was a heart-breaking loss that first game and we should have won because we were up 24-21. These girls never say die."
The Bulldogs had little trouble in their two early matches, dispatching Whitmer in two games before taking straight 25-14 games from Bowling Green to set up the all-Mercer County final. The Flyers looked to pull away early in game one, getting up as much as 18-7 at one point before the Bulldogs got the sideout with Betsy Hone up to serve.
Hone served up seven straight points, thanks to a pair of aces and big hits by Liz Homan and Lindsay Scheer, to cut the deficit to four points at 18-14 before Marion got the serve back. Afterwards, Celina managed to get within three points a few rotations later before Megan Barhorst clinched the opener with a spike.
Celina jumped out 3-1 in the second game before Marion came right back. This time, it was Abby Niekamp finding a hot serving touch, coming up with three aces in a run of seven straight points to go from being tied at 4-all to building an 11-4 lead.
The Bulldogs again rallied, cutting the Flyers' lead to 13-12. Marion would prevent ties but had to wait until Danielle Langenkamp came up to serve at 16-14 to put the game away. Langenkamp started with back-to-back aces and got a kill from Kristen Bergman to put the Flyers up 19-14.
Celina managed just one more point before Niekamp got the serve back and took advantage of several Celina hitting errors to end the match with five straight points.
"We came out pretty fresh and pumped up," said Steininger. "I thought we served pretty well.
"I think we built big enough leads the first and second games. (Celina) started to make a run but we had enough of a lead to hold on. They're a good team that will win a lot of games this year."
"They started out strong and we came back after them," said Celina coach De De Stoner. "We just didn't have enough.
"It just seemed we went flat for a little bit. Instead of saying 'oh well' and rallying back, we'd seem to lose a little. We need to get over that," continued Stoner.
Stoner was pleased with her team's play in going 2-1 on the day to raise their record to 3-2 on the season.
"Overall, very well," said Stoner. "The last game wasn't as good as the others, but Marion put more pressure on us than the other teams. That makes you make more mistakes."
Sycamore defeated Bowling Green to take the win in the third-place match.
"It was real good competition," said Stoner. "I was impressed with Sycamore. I didn't know anything about them before they came. They really gave Marion a run for their money."
Celina hits the road tonight to face the Bellefontaine Chieftains while Marion returns to the Hangar tonight to host Jackson Center.
Phone: (419)586-2371, Fax: (419)586-6271
All content copyright 2006
The Standard Printing Company
P.O. Box 140, Celina, OH 45822