By Nancy Allen
nallen@dailystandard.com
What do antique tractors and poker have in common?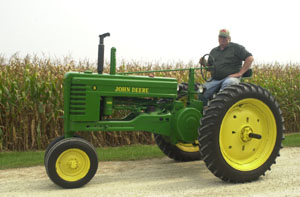 The first Antique Tractor Poker Run on Sept. 23 in Auglaize County.
Three area farmers, John Moeller and Lee Sudman, both of St. Marys, and Allen Paul, New Bremen, are organizing the event with the help of the St. Marys Veterans of Foreign Wars (VFW), the main sponsor. Pro-ceeds raised from the event will go to the St. Marys Commun-ity Youth Center and the Auglaize County Law En-forcement Shop with a Cop program.
"This hasn't ever been done in the local area, but there was one done in Missouri last year," Moeller said. "Originally we talked about having a tractor cade. That's like a big parade of tractors, but then we decided on this. It's just something a little different."
The 24.5-mile run will begin at 10:30 a.m. at the St. Marys VFW, located at 1309 E. Spring St. There will be a tractor and trailer parking and staging area at Ray's Recycling just north of the VFW. Maps will be provided. From the VFW, participants will drive their tractors to the American Legion in New Knoxville, then to the American Legion in New Bremen and then to Rustic Haven restaurant be-fore heading back to the St. Marys VFW. Each participant will get a stamp at each stop to signify that they were there. All participants will receive their poker cards when they arrive back at the St. Marys VFW, Moeller said.
Auglaize County sheriff's deputies and police in all three towns will help with traffic detail and Auglaize Emergency Management Agency officials also will have staff with radios at each intersection, Moeller said.
There will be a couple of trailers on hand in case any of the tractors breaks down and they need to be transported, he added.
Though the event is being billed as an antique tractor poker run for tractors made in 1972 and older, the event is open to all tractors regardless of when they were made.
"We are not holding people to the 1972 and older," Moeller said. "If they have a tractor, they can participate."
There will be prizes for first-, second- and third-place finishers with the best poker hands and door prizes donated by local individuals, organizations and businesses, Moeller said. Participants' names will be drawn for door prizes at the St. Marys VFW once everyone has arrived back. There will be free food for the participants at the VFW after the run.
So far 10 people have signed up and about 30 have said they will participate, Moeller said. The event will be held rain or shine. Participants will have the option to drive the route in automobiles if it rains, he said.
Moeller, who has shown tractors for years at festivals, said the antique tractor poker run gives him and others the chance to drive and show off their tractors.
"All you do is sit there and look at your tractor until it's time to go home," Moeller said of showing tractors. "This is a chance to take your tractor out and drive it and enjoy it."
The early registration fee to enter is $15 until Sept. 20 and $20 thereafter.
There also will be a trailer pulled by one of the tractors for people who want to ride along the route. The fee for that is $15 until Sept. 20 and $20 thereafter.
To register or for more information contact Moeller at 419-733-4059, Sudman at 419-733-6139 or Paul at 419-305-1988.
Phone: (419)586-2371, Fax: (419)586-6271
All content copyright 2006
The Standard Printing Company
P.O. Box 140, Celina, OH 45822