By Ryan Hines
rhines@dailystandard.com
Last week, the Celina football team got a break in the schedule and picked up its first win of the season in convincing fashion over Van Wert, 32-0.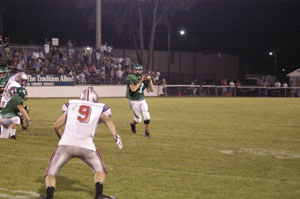 Celina head coach Jerry Harris warns that the opponents facing his Bulldogs this week will certainly have a different look and feel to them.
"Fans will see for themselves," said Harris regarding the difference between Van Wert and Shawnee. "In basketball you can't coach height and in football you can't coach speed. You either have it or you don't. Fans can see for themselves. You can't defend speed, you make one mistake and they're gone. You have to execute perfectly. Shawnee has three or four kids that can leave us all chasing their heels on any play.
"They will outweigh us 30-35 pounds per man and their speed is unparalleled. They can score on any and every play," added Harris. "On paper, the only team that can play with them in the league would be Kenton."
Van Wert was and will be outmanned for the rest of this season due to injuries and it showed as Celina dominated the Cougars on both sides of the ball. Experience and injuries have severely slowed Van Wert, but those won't be issues with a Shawnee team that many expect to contend for the Western Buckeye League title this year. Harris is one person who eyes the Indians as one of the teams to beat in the WBL this season.
"It's a no-brainer to me. I thought that Shawnee was the best in the league this year before the season started and I have no reason to think different now," pointed out Harris. "The two best teams in WBL last year were Kenton and O-G. In weeks nine and 10 last year, Shawnee beat them both with a freshman running back and sophomore fullback. Sadly, those kids are returning."
Shawnee did lose its opener, but it was against Sunbury Big Walnut, which is undefeated and ranked fourth in Division III in the first state football poll.
"Shawnee has one loss, but they shouldn't have lost that first game," pointed out Harris. "They dominated that game but were careless with the football the first week and it cost them against a very good team that has been in playoffs in three of the last five years."
The Indians have the best set of linebackers in the WBL with Derek Lingenfelter and Kenny Marsh while also possessing one of the most dangerous running backs in the league with Brandon Stephenson.
Lingenfelter and Marsh are both multi-year returning starters and give the Indians a play-making duo in the middle of their defense.
"I don't know how you block linebackers that are fast and 235 pounds back there," said Harris. "We look at those kids, and there isn't much room to attack. Run inside at them or run outside with their speed. They are big and have speed. There kids up front aren't slouches either. They don't have weaknesses to attack."
Stephenson, who totaled 818 yards and six touchdowns as a freshman a year ago, has big-play potential at running back while quarterback Josh Miller gives Shawnee a capable quarterback that has looked good in the early going this season in his first year as the starting signal caller.
There are plenty of concerns to worry Harris when it comes to Shawnee, but the veteran Bulldogs skipper, in his 20th season at Celina, is more worried about his teams' issues.
"We're just trying to do better this week, what we did better from last week," stated Harris. "We have to improve ourselves and not worry about Shawnee. We have to be able to run and throw better and we have to be balanced against a team like Shawnee.
"Our theme for about three years is going to be to just improve ourselves and not worry about what others do," added Harris. "We are a little better this week than we were last week and we want to keep that improvement going."
Sophomore quarterback Derek Gagle has looked better and better with each week that has gone by throwing for a career-best 230 yards and three touchdowns last week against Van Wert.
Stu Amstutz, Matt Paulus and Zach Sams have grown as receivers and give Gagle weapons at wide receiver, but it's the running game that has Harris the most concerned when it comes to his offense.
"We've been very unhappy with our run production, but we're still working hard on it," noted Harris.
Phone: (419)586-2371, Fax: (419)586-6271
All content copyright 2006
The Standard Printing Company
P.O. Box 140, Celina, OH 45822