By Ryan Hines
rhines@dailystandard.com
Shawnee is considered the favorite to win the Western Buckeye League football title for numerous reasons and the Indians showed most of its arsenal on Friday night at Celina Stadium.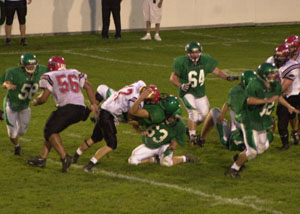 The Indians rushed for five touchdowns and then got two interception returns for touchdowns by Nate Biss in the first quarter on the way to embarrassing Celina, 47-0.
"We were banged up, we were beat up and we were embarrassed," said Celina head coach Jerry Harris. "I offer no excuses. Anything I say right now would seem like an excuse so the best thing for me is to not say anything. There's a 100 reasons why this game ended up like this, but it will all sound like excuses.
"If I had to wrap it all up into one word, it would be intimidation," added Harris. "We played intimidated and they had superior talent."
Celina was miserable in all facets of the game against Shawnee and the statistics are quick to point that out. The Bulldogs amassed just 140 total yards of offense while completing just 6-of-26 passes for 46 yards and two interceptions. Celina reached the Shawnee 30-yard line just once in the game and it came in the fourth quarter with the substitutes running the show. On the other side of the ball, Shawnee totaled 440 yards of offense and 318 on the ground.
Shawnee head coach Dick West thought his team played sluggish in its first three games, but the long-time Indians coach was impressed with Friday's performance.
"I didn't think that we were playing very well in the first three games, we were missing something that we were showing from the scrimmages, I'm not sure what it was, but we were missing something," said West. "I challenged them to get that back and they seemed to respond."
The Indians raced to a 21-0 lead in the first quarter sparked by a pair of interception returns by Biss. Biss stepped in front of a slant attempt by Celina quarterback Derek Gagle and the Shawnee junior caught the ball and raced down the sidelines for six points. Biss' INT return that put Shawnee up 14-0 came just 58 seconds prior to Tyler Rhoades' 20-yard touchdown run.
Biss struck gold again for Shawnee in the first quarter as he jumped another slant attempt and took this one 38 yards for the score putting the Indians up 21-0.
"This is his first year starting and he just keeps getting better each week. He's an exciting player and he showed some of that tonight," said West. "He must of picked up something on film on those two interceptions."
Derek Lingenfelter put Shawnee up 35-0 at halftime with a pair of short-distance touchdowns runs of one and two yards. A Gagle fumble caused by penetration from the Shawnee defense on an option play at the Celina one-yard line led to the first Lingenfelter score.
The Indians wrapped up their scoring in the second half as a pair of 100-yard rushers reached pay dirt for Shawnee.
Brandon Stephenson, who ran 19 times for a game-high 122 yards, had a five-yard touchdown run in the third quarter while James Dillard, who rushed the ball six times for 106 yards, got a big hole and sprinted untouched for a 71-yard score in the fourth quarter.
Stephenson changed his jersey number from 34 to 1 hoping to put history on Shawnee's side for the rest of the season. Brandon's older brother Brian (a backup running back at Yale) was the leading rusher for the Indians' team in 2004, the last time that Shawnee won the WBL and made the playoffs.
West likes the leadership role shown by the Indians' sophomore tailback.
"When his older brother was a senior, we had a great season and Brandon asked if he could change numbers as a reminder to that team and how hard they worked," explained West. "He's a good kid and a quiet kid but it was nice to see him make a leadership move like that."
Harris seems to think that Shawnee is well on their way to a potentially successful campaign.
"That team is going to go somewhere, period," complimented Harris. "They have everything. They have size, strength, speed and they can just thrown the ball well enough. What else can you need?"

Phone: (419)586-2371, Fax: (419)586-6271
All content copyright 2006
The Standard Printing Company
P.O. Box 140, Celina, OH 45822