By Gary R. Rasberry
grasberry@dailystandard.com
MARIA STEIN -- Marion Local improved to 9-1 on the season with a three-game win over a tough Russia squad at The Hangar on Monday night.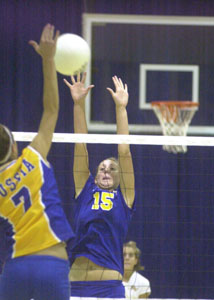 The Flyers, who are number one for the second week in a row in this week's coaches state poll in Division IV, took control midway through game one and never let up on the Raiders.
Marion Local led just 14-13 midway through the first game before pulling away to a 25-16 win and then wrapping up the match with 25-15 and 25-16 victories in the second and third games.
Coach Amy Steininger was happy how her team played on Monday, getting a second straight win after losing to Division III number-one Anna last Tuesday in three games.
"That's why I'm proud of the girls," said Steininger. "They took a tough loss last week and Anna is a good team. We just wanted to come out and rebound after that loss and get some wins under our belt. We still have a lot of MAC (Midwest Athletic Conference) matches to play." The Flyers and Raiders played pretty evenly in the open portion of game one. Both teams held a lead, but could not get much separation. Russia (5-5) had a 13-12 lead but the serve by Sarah Petty went out of bounds, sending Danielle Langenkamp back to serve for Marion.
Langenkamp came up big, serving up two aces as part of a 7-0 run that put the Flyers up 20-13 before Russia got a kill from Hillary Monnin to get the serve back. However, a Kristin Bergman kill stopped a potential Raider rally as the Flyers outscored the Raiders 4-2 down the stretch to take the opener.
"Russia is a nice team, a tall team (Twins Katie and Sarah Petty were both 5-11 with Hillary Monnin at 5-10). They have some real nice outside-hitters. We really wanted to play defense against their outside-hitters with the big block," said Steininger. "I thought our defense played well tonight."
From there, the Flyers were able to pull away from the Raiders in the last two games. Marion look the lead at 5-4 in game two and never looked back. Abby Niekamp had a run of six straight points to make it 13-5 to give the Flyers enough cushion.
In game three, Steininger brought in Nicole Klosterman to start out the serving and Klosterman aced twice to help Marion Local start the game 3-0. Russia got as close as a point several times in the game, but Marion got the timely kill or block to push the lead back up. Klosterman had seven service points in the game.
"We tried to serve pretty aggressively on the night," said Steininger. "I think we also tried to get some diversity in our attack. A lot of people had big nights on offense. Megan Barhorst led us in kills with 10. Abby had eight and Kristin had eight. Our middle had a lot of success tonight."
In the junior varsity match, Marion beat Russia 25-6 and 25-17.
Marion Local returns to action on Thursday in conference play, traveling to Minster.
Phone: (419)586-2371, Fax: (419)586-6271
All content copyright 2006
The Standard Printing Company
P.O. Box 140, Celina, OH 45822