By Gary R. Rasberry
grasberry@dailystandard.com
With sole possession of first place in the Western Buckeye League up for grabs, Celina hosted Elida in what many expected to be a battle down to the wire.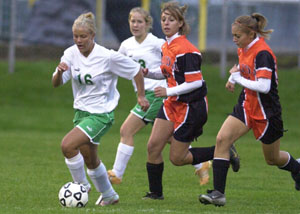 Elida scored three times in the final 25:45 of the match to overcome an early Celina goal and win 3-1 at the Soccer Stadium.
The win moves Elida into first place alone in the WBL at 4-0 and improves its overall mark to 8-1. Celina sees its seven-game unbeaten streak end, dropping the homestanding Bulldogs to 6-2-1 overall and 3-1 in the league.
Given Celina's defense prowess that has allowed few chances at the goal, the start of the match saw both teams trying hard to get a break, but the other side's defense holding tough.
It took a direct kick just outside the box for Celina to get on the board first. After an Elida infraction called for the direct shot, Allison Braun lined up and put the ball in perfectly in the near corner, just past the line and Elida keeper Ashley Jones with 11:22 left in the first half to give Celina the lead. It appeared that the score might hold up as Elida had just three shots on goal in the first half, two of which were serious enough to warrant saves by Celina tender Laura Kuhn. Celina was also not getting good offensive looks, taking just two shots in the first 40 minutes.
Something, however, appeared to change in the second half. Elida came out with a little more vigor and began to attack the goal aggressively. Celina's defense held tough for the first 14 minutes of the match before a corner kick helped Elida.
Elida had several shots on goal, but Celina deflected most attempts. On the last comeback, Marianne Conrad lined up and put it past Kuhn to even the match with 25:45 left to go.
"I really think when I talked to the girls in the second half, I told them they had to start getting to the ball quicker," said Elida coach Matt Albright. "We had three touches and trying to set up the passes. I told them (Celina) was too good. They were quicker at the time and I said once you start one-touching and directing the ball with one touch, you're going to find yourself creating openings."
"It was a big blow," said Celina coach Cal Freeman of the tying goal. "Momentum definitely switched at that point."
Celina also had more chances in the second half, trying five shots on goal, but Jones made four saves with the other try going high over the net.
Elida had a perfect chance to take the lead with just under 121Ú2 minutes left to go, but Kelly Warris' try went off the post and out of harm's way.
Warris, however, would not be denied. With the clock just passing eight minutes to go, Warris got a breakaway and dribbled into the box, putting the shot past Kuhn with 7:55 to go to put Elida up 2-1.
Any plans Celina had to get the equalizer were crushed 44 seconds later. In a near replay, Warris broke away again, scoring her second goal with 7:11 to go to get the much-needed insurance.
"(Celina) was playing us tough," said Albright. "When you're playing that tough and you give up a goal, it's hard to keep everything going. Hard to keep the defense up. ... Kelly is such a good forward, you giver her any kind of opportunity or opening, she's going to score on you."
"They're definitely a good team," said Freeman. "You can't take anything away from Elida or their players. They came out to play. I was real proud of the girls. We won the first half and did what we needed to do. Second half, Elida came out on fire. We held them down."
In the junior varsity match, Celina won 3-2 with the game-winner coming on an own-goal by Elida. Katelyn Moorman and Kirsten Samples had goals for Celina.
Celina returns to action on Saturday with a road trip to Bellefontaine while Celina's next league match comes Monday at Bath.