By Shelley Grieshop
sgrieshop@dailystandard.com
FORT RECOVERY -- If the children in K-12 meet their goal in the next two weeks, the boys and girls of Fort Recovery Local Schools will virtually walk to Tokyo and back.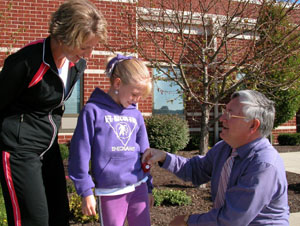 Pedometers were distributed Monday to students and staff to track the number of miles tread per person each day. Those steps will be added together and hopefully will hit 83 million.
"This is an adventure Fort Recovery has never taken before," middle school Principal Ted Shuttleworth told students gathered at a pep assembly in the school's auditeria.
The school embraced the Live It program following a mandate last year by state and federal lawmakers that all school districts adopt a wellness policy beginning this school year. Each school's wellness policy must include goals for nutrition and physical education. Schools also must form a wellness committee consisting of parents, students and other community members.
"I"m very passionate about this subject," said Amy Wendel, a member of the wellness committee and organizer of the Live It program. "Today's lifestyles are more sedentary than they used to be, and it's a real job getting kids excited about exercising." Wendel, a family nurse practitioner and mother of six children, said she and her 10 siblings were taught at an early age to eat right and exercise -- a lesson many children don't get today, she says.
The percentage of overweight children has more than doubled during the past 30 years, health officials say. Today, about 17 percent of American children ages 2-19 are overweight.
"Diabetes and high blood pressure have skyrocketed," special guest speaker Dr. David Rohrer told the students.
Rohrer urged the youths to motivate their parents to exercise and choose healthier foods for the entire family.
Students excitedly gasped as their principal announced that special guests Lance Armstrong and Lebron James were on hand to explain the 14-day goal. But expectations fell seconds later as the world champion cyclist and the NBA All-Star appeared on a large video screen, explaining Live It and its two-part series, Step With It and Fit It In.
Students applauded loudly during the assembly and appeared eager to begin.
"I think this is a very good thing for our school because a lot of high schoolers eat a lot of junk food," said junior Jill Pottkotter, a member of the wellness committee.
Fellow committee member Julie Backs believes the pedometers will be encouraging.
"I think everybody tries harder when they have a goal," Backs said.
The small, plastic step counters hanging from the children's waists will record body motion while walking, swimming, cycling or performing any activity. Each day all 953 students and 50 staff members will log the steps they've taken, then reset their pedometers for the next 24 hours.
"We are challenging the children to walk 10,000 steps every day," Shuttleworth told The Daily Standard, adding that geography and math lessons also are being incorporated into the project for an overall learning adventure.
The final step totals will be tallied Oct. 12 and a rally will be held at the school's football field to announce the results. T-shirts and other prizes donated by area merchants and individuals will be awarded to the top walkers.
Shuttleworth says he's 100 percent behind the Live It project for the school and the community.
"Instead of just having a wellness policy and filing it away, we're trying to show the kids we think this is important," he said. "Wellness is something you do for a lifetime."
Phone: (419)586-2371, Fax: (419)586-6271
All content copyright 2006
The Standard Printing Company
P.O. Box 140, Celina, OH 45822